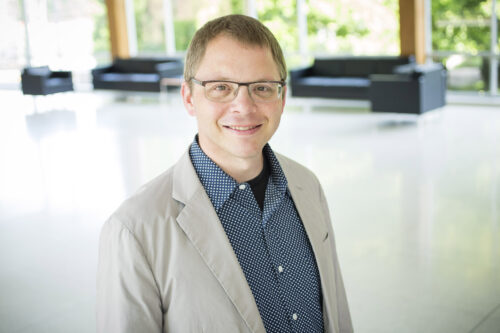 A Message from Dean Kevin Hamilton
Fall 2021 finds our FAA communities emerging from a year of disruption like no other. Like an audience emerging from a transformative performance, we're checking our senses against reality, comparing what we've experienced and learned thus far, taking inventory, realigning our expectations of the world. We of course bring many a memorable success story in how staff, faculty, and students responded to the ongoing global health pandemic, and to a nation roiled by the renewed visibility of long-standing forms of racist oppression. But our learning process is far from over, and in many ways is just beginning.
Arguably, those in the arts are more aware than most of how crisis, loss, and trauma reveal the world anew. Such forms of revelation, however difficult, are at times exactly what we seek in the performances or exhibitions we create. Where the past year's struggles found many an institution rushing to reassert their principles, identity, and goals, here in the arts we are used to having those things shaken. Through design, art, or research, we regularly seek destabilization as a way to discover who we really are.
To that end, our questions ahead as a college include some shared across higher education and some specific to the arts. With opportunity and income gaps widening in this country, what role does a residential college education play in social and economic mobility? How do the new forms of learning made possible by online education change who we serve? How does education in arts, design, architecture, and planning prepare one to be part of the deep cultural and structural transformation required to achieve lasting equity for all? What roles do the arts play in how cities plan for collective thriving in the face of climate migration, globalization, and rising calls for wealth redistribution and police reform or abolition?
For many an organization, such questions create division, confusion, or paralysis. Not so here in FAA. The past year has proven beyond a doubt that we are not only well prepared for a turbulent future, but uniquely suited to lead within it. Our programs did more than just get by during the past year of diminished opportunities for gathering. Faculty, staff, and students turned to the work of ensuring that we have the right systems and structures in place to support life. They applied their own disciplinary knowledge to improvise, critique, and design new forms of living and working together. We may not be where we want to be as a collection of opportunities for equitable creation and discovery, but we know where to start in that process. Our forms of craft lead us to begin with the particular in order to reach the global. The greatness of what our alumni and faculty produce pays testament as much to maintenance, care, and repair as innovation.
In this issue of Dimension, we highlight work by faculty, staff, and alumni that are particularly focused on the future. You'll find here some pictures of not only vision but commitments, as we seek to make ourselves ever more accountable to the change of which we want to be part. My years in the dean role have taught me that what makes our college unique is not only our diversity of aesthetic approaches and disciplines, but the ways we propose new forms of living and follow through in delivery on those forms – all the way through to the long-term processes of reflection and correction required for matching words to actions.
As the flagship arts college in a state long known as a leader not only in the arts but in arts policy and advocacy, we stand to prepare not only ever better artists, designers, architects, scholars, teachers, and planners, but ever better neighbors. FAA has big plans to this end of which you'll see a glimpse in these pages. May this transitional year of adjustment and reflection bring us into ever more effective and lasting partnerships with you in your own efforts to see change.