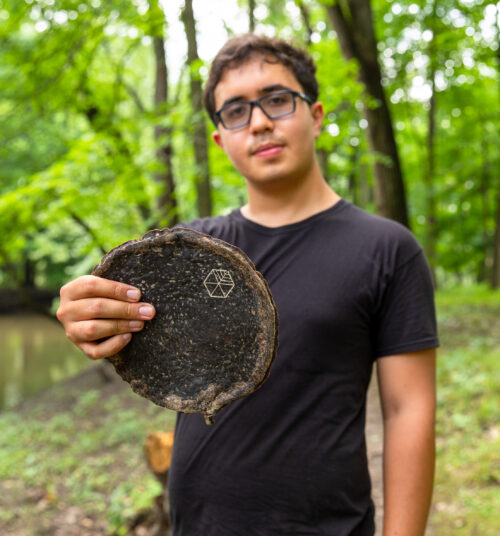 Combating Deforestation Through the Repurposing of Food Waste
Gabe Tavas (FAA '22) is a biodesigner, explorer, and social entrepreneur from Chicago. Passionate about environmental regeneration, Tavas works at the intersection of nature, design, and community engagement. He serves as the CEO of Symmetry Wood, a startup that creates wood from bacteria without cutting down trees to combat deforestation. Tavas has a long-term interest in helping Chicago become a 'Fab City' that locally produces most of its essential products like food, energy, and materials.
Tavas was recently awarded the Fiddler Innovation Fellowship from the National Center for Supercomputing Applications (NCSA) for his development of a sustainable wood alternative called Pyrus™. The work on Pyrus™ started as a side project for Tavas in his dorm room and at the university's Fab Lab. Now an FAA graduate, Tavas is committed to growing his biotech startup, Symmetry Wood. His team partners with Kombucha production facilities to gather their food waste and then repurpose it to grow bacterial cellulose, which mimics the cellulose found in trees and serves as the main component of Pyrus™.
Gabe Tavas was part of the first cohort of students graduating with their Bachelor of Science in Sustainable Design from the College of Fine and Applied Arts. This program is relatively new to the college but has seen steady growth since its inception in 2018. "In a nutshell, I would say that my experience at the University of Illinois made me more creative, confident, and patient! I got to push myself to new levels in my work and was exposed to a wide selection of the College of Fine and Applied Arts thanks to the sustainable design program. I feel very grateful to have been part of the school and will remember it fondly as I push forward," said Tavas.