Kendall Hardin
By Amy Karaginanakis
Over the course of Kendall Hardin's career, she has gone by the title of designer, chief marketing officer, consultant, principal of her own company, fundraiser, and many others. Each role, while different, had one common theme – the arts. Kendall knows first–hand how valuable a college education in the arts can be. She also understands what it's like to struggle to pay for that education.
It was the summer of 1966, and after applying for several scholarships that didn't materialize, Kendall began to worry that she wouldn't be able to cover tuition for the upcoming semester. Just as she began to accept that she would have to drop out of the University of Illinois before her sophomore year, she received a large envelope in the mail from the School of Art and Design. She had been awarded the Lydia E. Parker Bates Scholarship in Fine Arts which covered her tuition, books, room and board, and even a small stipend for personal expenses. Kendall recalled, "I was ecstatic with joy. I literally danced around the house clutching that packet." Lydia Bates, widow of a former dean of architecture, established the scholarship to support female students majoring in architecture, art history, or industrial design based on financial need.
Professor Norman Gambill inspired Kendall to pursue the field of art history. "He was a brilliant lecturer who really ignited my intellectual abilities to decipher multiple ideas into meaning," shared Kendall. She considers art history to be a tough and exacting discipline. "It requires a kind of integrated thinking – encompassing aesthetics of form, iconography, and various mediums, mixed with historical, religious, and cultural influences – a kind of multidimensional problem-solving." It was a recommendation from Professor Gambill that helped Kendall land a teaching assistantship at The Ohio State University after graduation.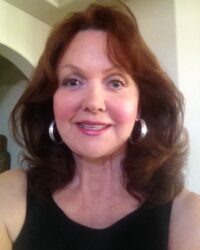 I regret never having the opportunity to meet Lydia Bates. To this day, I think of her as an angel who spurred the trajectory of my life at just the right moment."
- Kendall Hardin (BFA '69 Art History)
part 2
Having earned success in her own career as a direct result of this gift from a total stranger over 50 years ago, Kendall wanted to pay that forward. She recently made a generous major gift to the Lydia E. Parker Bates Scholarship in Fine Arts to help other talented women in need of financial assistance seeking to attend the College of Fine and Applied Arts. This inspiring gift ensures that Lydia's legacy continues in perpetuity while making a lasting impact in the lives of young women for generations to come. 
When asked about her long and successful career in the arts, Kendall shared, "I had a very creative checkerboard career, but I think I would have been bored with 35 years in the same company. I needed creative challenges and often shaped the jobs in my career pathway. I also moved back and forth between line positions and consulting – integrating the creative side with business." Kendall currently resides in Las Vegas and continues to do consulting work through her firm Idea Factory. A self-taught digital designer, Kendall has won numerous Addys and Best of Show awards for her work on client campaigns. She also writes cultural features for the Las Vegas lifestyle publication Chic Compass Magazine. Kendall has received several museum show awards for her "three-dimensional mixed media/fabric under plexiglass" and is looking forward to making more art this year.  
Passionate alumni and donors like Kendall Hardin make it possible for the College of Fine and Applied Arts to attract and retain the most talented artists, designers, architects, planners, and performers. 
If you would like to learn more about how you can support the Lydia E. Parker Bates Scholarship in Fine Arts or would like to establish a scholarship in your name, please contact Senior Director of Advancement Brenda Nardi.