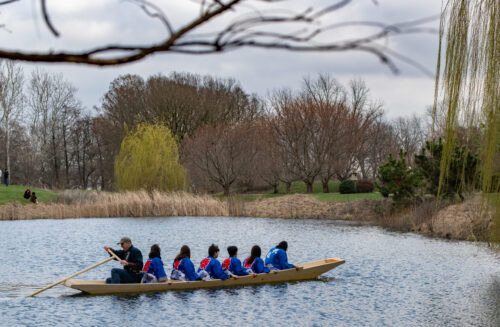 Japanese Art and Aesthetics Minor Now Available to Students
Japan House is excited to announce that as of this current semester, the new Japanese Arts and Aesthetics minor is now available to students. The minor is ideal for students who wish to develop cross-cultural competency and learn to integrate Japanese aesthetic theory and practice into their broader pursuits. Students will take a variety of courses in traditional and contemporary Japanese arts and aesthetics including topics such as Japanese tea ceremony, anime, design, manga, and much more.
One of the courses available to students is an independent study in Japanese aesthetics. This consists of a directed independent research project or creative project in which students may have the opportunity to collaborate with visiting artists. Last spring, students learned about apprenticeship in Japanese traditional culture and were visited by Douglas Brooks, an expert in traditional Japanese wooden boat building. During the week of his visit, students worked with Brooks to build a wooden boat at the Siebel Center for Design. In contrast to western teaching methods, the apprentices learned mostly through observation, working in silence as much as possible. The approach puts the responsibility for studying fine detail and decoding the exact best methods on the student, rather than the teacher. Upon completion, the 21-foot boat made its successful maiden voyage in the University of Illinois Arboretum ponds.
The minor will allow students to experience Japanese arts first-hand and explore how Japanese aesthetics can be applied to practices across various disciplines. Through study and immersion in Japanese aesthetics and culture, students will develop their aesthetic sensibilities and learn how to apply Japanese aesthetic philosophies to their own work, interactions, and understanding of the world. The Japanese Arts and Aesthetics minor is open to students in all majors, but all minor requirements must be completed before graduation.