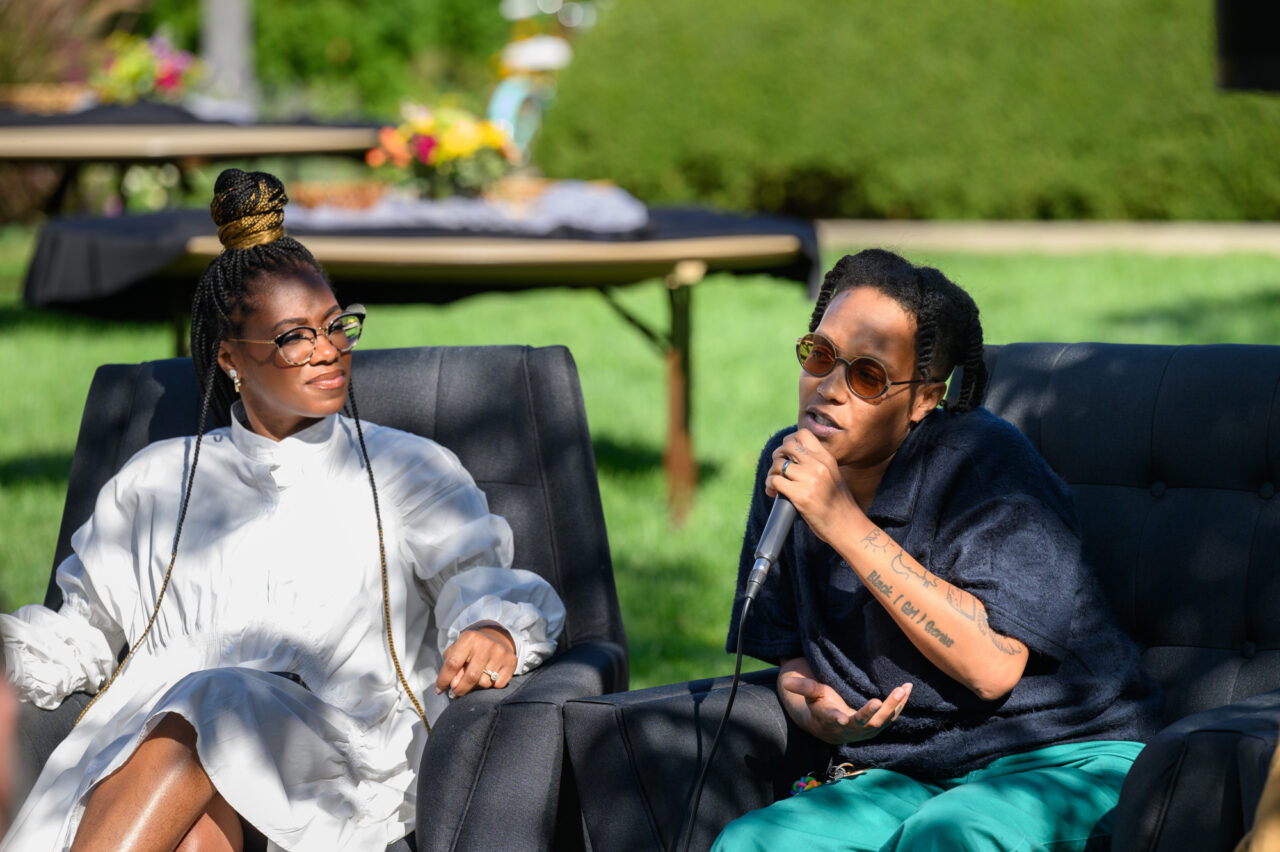 intro
By Mariana Seda
In 2022, Krannert Art Museum hosted the exhibition Black on Black on Black on Black, featuring four faculty members from the School of Art and Design exploring the themes of time, space, identity, music, and memory through the lens of Black Quantum Futures.
The exhibition showcased the works of Visual Artist and Studio Art Chair Patrick Earl Hammie, Graphic Design Professor Stacey Robinson, Art Education Professor Blair Ebony Smith, and Graphic Design Professor Nekita Thomas. Through striking multimodal and immersive installations, the artists invited museum-goers to witness and sometimes step into spaces designed for and defined by Black lived experiences and realities.
Rooted in the act of placemaking, the installations by Thomas and Smith, in particular, established a powerful and interconnected narrative by exploring identity through the framework of Black women and Black girlhood.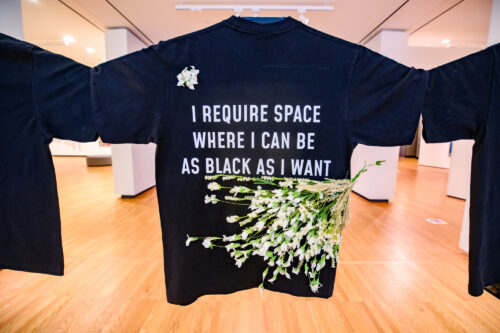 story continued
In "Black Space Protocols," Thomas examined the idea that space is not racially neutral, particularly in institutions like museums and academia. By asking visitors to navigate a space she created using everyday objects like milk crates, t-shirts, and decorative flowers, Thomas underscored Black spatial practices and the potential for fortification, joy, and liberation through deliberate design.
"I think a big portion of what happened in 'Black Space Protocols' for me was thinking about a space for self-care. I was tapping into the strengths of the design sensibilities that my family has – like my mother, my brother, my aunts. It has opened up whole new ways for me to think and play and for my work to have joy," explained Thomas.
Thomas also challenges the ways space can be organized, owned, and exclusionary. "It's like allowing yourself to ebb and flow in and out of those conversations, but doing it in a way that feels like it's leveraging and acknowledging those histories that are very familiar to me but are not always privileged by the university and the scholarly world."
Thomas considered this installation as an entry point for her to address the practices and habits that support her art-making, including carving out creative space for herself in places like the university, where her work is often centered on research and writing.
"My studio practice does not always fall within the realm of research, but it's something that sustains my health," said Thomas. "Oftentimes when you're on the tenure track and you're writing research papers, some of that self-care gets lost. So that's what I used this time and installation to think about: What are those protocols that are currently coming up in my work that don't just support me as a scholar, but also support me as a Black woman?"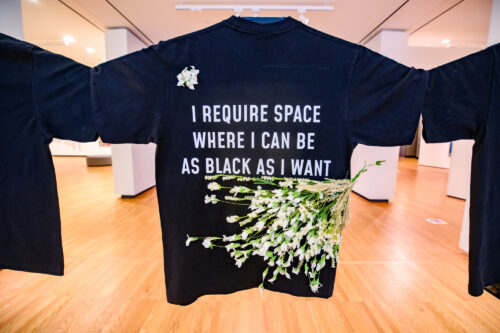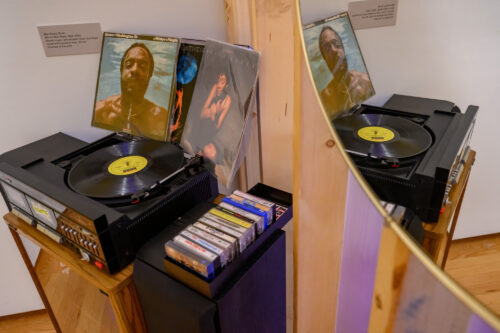 smith story
Smith comes from a Black critical arts education background and is deeply informed by her sound work as a DJ, lovenloops. As a postdoctoral researcher with Krannert Art Museum, Smith first started working in public engagement curation, focused on Black girlhood celebration with Black girls as a studio art practice, and learning the processes behind putting together an exhibit with related programming.
"It's great to have colleagues help me into the space and figure out what's needed, what the conversation has been, and to think more deeply about the history of Black artists, professors, staff, students, and folks that come through and have come through the School of Art and Design," noted Smith. "It was very special to lean on the experience of Nekita, Stacey, and Patrick, who have been doing installations and public artwork for years, and to bring my experience and do my own thing too."
Smith's installation, "(Refrain) Turn Me On – Would You Come On Home?" wove together sound and photographs, creating a poignant remembrance of family. Drawing from her father's mix tapes of jazz, funk, hip-hop, and soul, Smith constructed a soundscape that resonated throughout the exhibition, holding conversation with visitors and with the other artists. The sound was supplemented by a built living room space, complete with shelving for cassette tapes and a music player, that felt truly inviting and lived-in.
"Home-making with Black women and girls has always been a part of my work," said Smith. "I also work a lot with sound. So, this particular installation allowed me to bring in my own experiences as a young girl getting to know myself as a woman and how I came of age through my dad's records and CDs, like so many people."
Black on Black on Black on Black was on view from September 24 to December 10, 2022, at the West Gallery, Light Court, and Contemporary Gallery. In conjunction with the exhibition, KAM organized a series of engaging events, including an opening celebration, a lecture series, a catalogue, and community conversations throughout the duration of the exhibition.
Learn more about upcoming events and exhibitions at kam.illinois.edu.