Voces
By Mariana Seda
The Krannert Art Museum (KAM) featured a new exhibit that amplified Latina/x girls' voices through multimedia works. Centering their lived experiences, the exhibit created space for the girls to represent their stories, languages, and cultures in humanizing and empowering ways.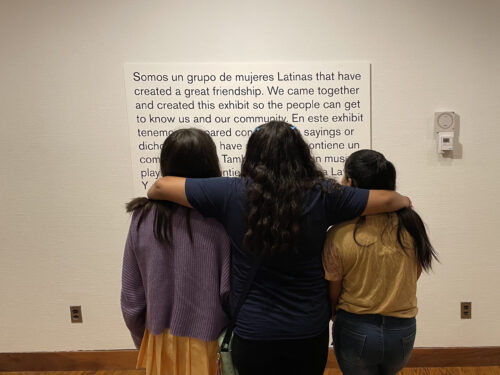 part 2
Latina Community 'Voces' was on view in the museum's Hood Gallery, a space that was historically used as a classroom but was transformed into a pop-up exhibit gallery this past year. Idalia Nuñez Cortez, Mónica González Ybarra, and Catherine Dornfeld Tissenbaum, professors with the Department of Curriculum and Instruction, worked with five Latina/x girls from Urbana Middle School to imagine, design, and curate the exhibit. "The idea started with an interest in changing the typical narratives that are presented in museums, which tend to exclude communities of color and youth," said Nuñez Cortez.
'Voces' offered a variety of interactive audio and visual experiences, as well as framed drawings and writings. Presented in huge lettering, the featured text was collaboratively written by the girls in Spanglish—a combination of Spanish, English, and slang. The accompanying labels for each piece were written in both English and Spanish. On the Muro de palabras/Word wall, the artists shared sayings and cultural references that infused their everyday lives. One of the girls highlighted her multilingual heritage by writing the K'iche' and Kanjobal (indigenous Mayan languages) words for "tortilla" furthering the nuance and complexity of understanding Latina/x identity in our communities.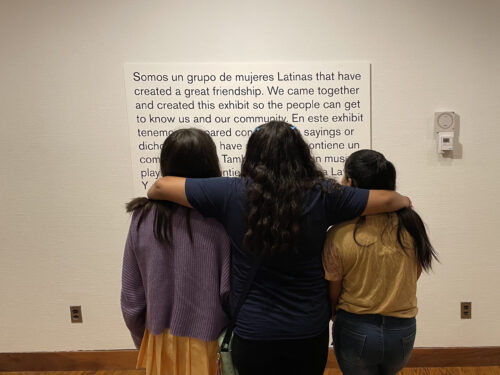 part 3
Other works included a video of a "snack-off" food challenge that the girls hosted and filmed at their school, featuring Flamin' Hot Cheetos, Doritos, and Valentina hot sauce as ingredients. An interactive map displayed places in Urbana-Champaign that were meaningful to the artists, whether it was a favorite restaurant, a place of recreation like a skating rink, or the grocery stores where their families shop.
Perhaps the most visceral part of the exhibit was the Lista de canciones/Playlist, a list of songs selected by the girls that represent the soundscape of their lives. Songs ranged decades and genres featuring artists from Selena to Doja Cat. The playlist was interactive and accessible, allowing visitors to sit down, scroll the list, skip a song, or go back to a favorite to hear it again. Since the music played through the gallery speakers, it enveloped the space, heightening not only the experience of the other works, but also an awareness of connecting with the other visitors, noticing who was singing along or dancing.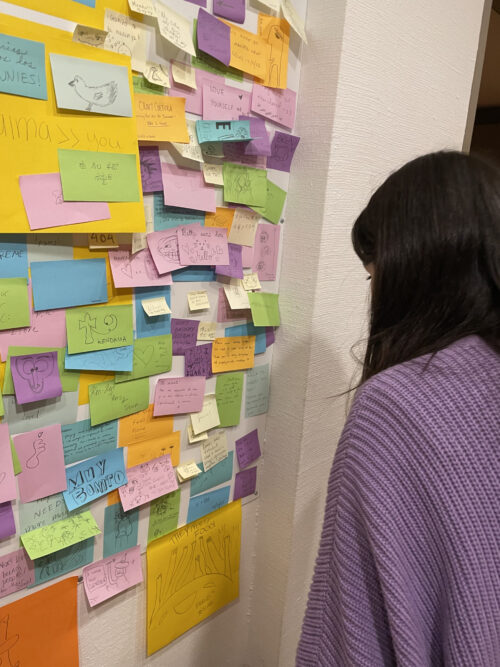 part 3
For KAM visitors, Latina Community 'Voces' provided opportunities to build cross-cultural understandings, relationships, and solidarity with Latina/x girls. By the exhibit's close, the response wall had filled up with messages, drawings, affirmations, and notes of gratitude for the artists and their work.
When the artists first visited the exhibit, there were joyful exclamations of appreciation. "It's so amazing to see this work up," said one of the girls, "like, stuff I made and stuff my friends made stood out to people. And to be Latina and be special…that means a lot."
Another girl delighted in the playlist. "I picked this song!" she exclaimed. "I can't believe we got our artwork in a museum. That's a really hard thing to do. We worked so hard."
Each artist had a different piece that resonated most with them. But when it came to their favorite part of the process, the response was unanimous: teamwork and connection. "We spent a lot of time together just talking about our lives, and I loved that."
Kamila Glowacki, interim manager of education for KAM, and Ishita Dharap, education coordinator, helped coordinate and install the exhibit which received funding through the Call to Action to Address Racism & Social Injustice Research Program. "We are very excited for the future potential of continuing this work with the museum and the community," said Glowacki. "This was an exciting pilot year and we're grateful to have the opportunity to keep expanding."
Latina Community 'Voces' was cocreated in partnership with Girls Go for It! (GGFI), the College of Education, and Krannert Art Museum. The exhibit was on view in the Hood Gallery from April 12, 2022, to July 9, 2022.