intro
By Sean Kutzko, Krannert Center for the Performing Arts 
Residents of Champaign-Urbana were given a treat when two of its great venues in Champaign-Urbana came together last spring as Krannert Center for the Performing Arts and Champaign's historic Virginia Theatre combined efforts to present performances by the University of Illinois Urbana-Champaign's Department of Dance and the School of Music's Lyric Theatre. The results were exceptional on many levels. 
Krannert Center opened in 1969 and has been not only a world-renowned venue for a full spectrum of national and international artists but also an educational hub for the Departments of Dance and Theatre and the School of Music including Lyric Theatre at Illinois. This blending of educational and professional performing arts is one of the hallmarks of Krannert Center.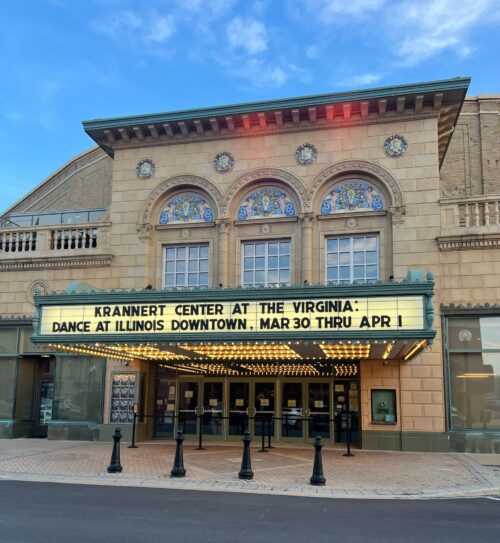 the rest
The Virginia Theatre opened in Champaign in 1921 and has offered everything from vaudeville, theatre, and movies to concerts, comedies, and recitals. In private hands for most of its existence, it functioned primarily as a movie theatre from the 1930s through the 1980s. The venue was purchased by the non-profit Virginia Theatre Group in the 1990s, with the Champaign Park District taking over management of the theatre in the early 2000s. Since then, the Virginia has hosted popular music concerts by nationally recognized musicians in multiple genres and has been a prime venue for several organizations and events such as the Champaign Urbana Ballet, the Champaign-Urbana Symphony Orchestra, and Roger Ebert's Film Festival, among others. 
With so many artists and performers in Champaign-Urbana, it came as a surprise to many that the Virginia Theatre and Krannert Center had not worked together in a very long time. Julie Gunn, professor of accompanying at the University of Illinois School of Music and co-director of Lyric Theatre at Illinois, recalled a 2022 meeting where the idea of collaborating was first proposed: "My husband [and co-director of Lyric Theatre Nathan Gunn] and I were visiting with Steven Bentz, the executive director at the Virginia Theatre, and he shared that the Virginia's 100th anniversary was approaching and that he was interested in developing  new kinds of work for it. We recognized that this would be a great partnership." The missing piece fell into place when Krannert Center announced their Colwell Playhouse, one of the venues used by Theatre, Dance, and Lyric Theatre, would undergo major renovations for accessibility upgrades.  
With the Playhouse shut down, an additional venue needed to be found for student productions. The Virginia Theatre opened its doors to host Krannert Center at the Virginia: Dance at Illinois Downtown by the Department of Dance, and Lyric Theatre's production of the Tony Award-winning musical City of Angels. Dance at Illinois Downtown included works by Dance faculty, graduate students, and the legendary choreographer Kariamu Welsh, as well as performances by students, faculty, alumni guests, and local musicians. City of Angels was influenced by film noir and classic hard-edged detective movies, featured a jazz band comprised of local musicians, many of them part of the School of Music's jazz program. 
"We were excited to finally work with Krannert Center," Mitch Marlow, sales and publicity manager at the Virginia Theatre, explained. "I received wonderful feedback from the productions' faculty and staff about the historic beauty of the Virginia. It's always gratifying to receive compliments [about the theatre], but it carries a bit more weight when coming from contemporaries in your field." 
There were significant logistical challenges to overcome. Sara Hook, professor and head of the Department of Dance, said the scheduling proved a bit tricky. "The Virginia Theatre had already booked a show the week before we wanted to be there, so we had to have our initial lighting level set rehearsals at Krannert Center's Festival Theatre and then attempt to transfer that design information to the Virginia in a tighter schedule than we are used to." Julie Gunn agreed: "Physically, the orchestra pit [at the Virginia] isn't large enough to accommodate the live band in City of Angels, so [scenic designer] Kate Spademan designed a set that resembled a Los Angeles soundstage to showcase the band center stage." The sets for City of Angels were installed at Krannert Center for rehearsals, then moved to the Virginia for the actual performance. Students in Krannert Center's Level 21 program, which focuses on instruction in performing arts design, technology, and management, worked side by side with IATSE Local 482 stagehands at the Virginia to rehearse and run the performances. Working in a non-university performance space helped students learn other aspects of real-world theatre production. "The union contracts at the Virginia Theatre limit the number of hours in the theatre each day, which taught our students about professional preparation to maximize every minute of rehearsal," Gunn added. 
The performances were a treat for all on both sides of the curtain. "I loved seeing the audience's reaction to our work," said Sara Hook. "I really enjoyed that it was a diverse audience and that there were many people there who don't normally come to our shows. I heard from many Virginia Theatre regulars who had never been to a Dance production before and they were over the moon about the experience they had!"
"We were very happy with both shows," Mitch Marlow said. "The turnout was good. We were not sure if being off campus would hinder attendance and it did not seem to. Seeing a largely different audience base in this house was very fun. The audiences were very ecstatic at each performance of both productions. The look and sound of both productions was quite stunning. The Virginia was delighted to be hosting both shows." 
Julie Gunn enjoyed seeing the City of Angels cast grow from their Virginia Theatre experience. "Listening to that fantastic band and watching the actors enter and exit, as well as developing personal and communal rituals that will stay with them for their entire careers was incredibly special. Krannert Center will always be our artistic home, but when we can tour—to Allerton, New York City, Chicago, or downtown Champaign—I feel very good about what that accomplishes in relationship building and the development of flexible skills." 
This collaboration has opened the doors for further partnership as Illinois Theatre will take to the Virginia to present Jonathan Larson's RENT October 26–28, 2023. "We certainly hope there will be opportunities for more collaborations beyond these three productions," Marlow added.  
"I am definitely open to that," Sara Hook said. "We loved being there. It is a beautiful, historic venue, and it felt wonderful to be right downtown. Besides, the educational experience for our students to work in a real-world environment like the Virginia Theatre is tremendous; it can't be overstated."