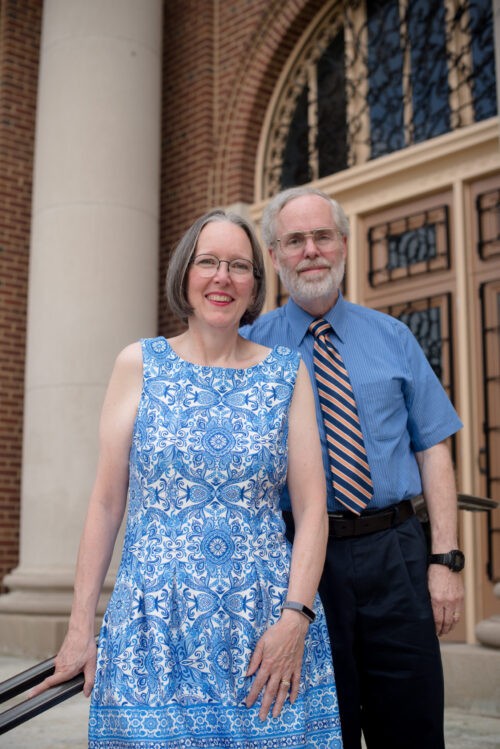 Increasing Access to the Arts, One Sponsorship at a Time
By Amy Karagiannakis
Krannert Center for the Performing Arts was established over 50 years ago through the generosity of arts advocates Herman and Ellnora Krannert. Krannert Center continues to nourish creativity and passion—finding innovative ways to strengthen and enrich our community through the performing arts. This would not be possible without the commitment and ingenuity of passionate community members like Susan and Michael Haney. The Krannerts inspired a vision for the future of the performing arts at the University of Illinois, and it is friends like the Haneys that keep that dream alive and thriving.
Michael Haney, an alumnus of the Grainger College of Engineering, came to Champaign-Urbana for graduate school in 1977. Susan transferred to the College of Liberal Arts and Sciences and then the Gies College of Business from Western Illinois University as an undergraduate in 1979. Being from a small farm town in Illinois, Susan was enthralled with the art and culture that Champaign-Urbana offered. The two of them met through mutual friends while Susan was still attending school. Susan ran into her friend Pat at the Champaign Public Library who invited her to see the Star Wars movie with her, her husband Allan, and a friend of Allan's. That friend was Michael, and the two hit it off. They have been married for 33 years and still remain close with the two friends who introduced them. Michael worked as an engineer and lecturer at the University of Illinois for nearly 30 years, retiring in 2010, and continued to lecture for two more years. Susan is an avid volunteer in the community. She has served as the liturgical artist for the Wesley United Methodist Church for close to 30 years. As a professor of Ikenobo Ikebana, the Japanese art of arranging flowers, she decorates the church and creates flower arrangements for the holidays. She also serves as treasurer for the church's food pantry and chaired fundraising efforts for much-needed infrastructure updates. Susan also served two consecutive years as president of The Illinois Club, formerly the Women's Club at the University of Illinois Urbana-Champaign, and still volunteers with them today. It was her love and mastery of Ikebana that led to one of the couple's first donations to the university in support of the construction of the current Japan House located in the University Arboretum.
It may come as a surprise that the majority of the Haneys' philanthropic support over the last couple decades has not been designated to the University of Illinois colleges that they graduated from. The Haneys recognize the exceptional value of experiences that only the performing arts and cultural centers can provide. Since the Haneys made their very first gift to Krannert Center in 2010, they've sponsored close to 40 performances. They understand that the impact of sponsorship goes beyond a particular performance or experience. Michael added, "The first performance we sponsored was Black Watch, a battalion of Scottish bagpipers, which set the stage for us sponsoring international artists that would not generally attract other big-ticket donors." Giving to the arts in this way ensures a culturally diverse spectrum of visiting artists while also fostering greater access to the arts for area youth and the community. With the establishment of the Susan and Michael Haney Fund for Young Audiences in 2019 and their support of the Krannert Center Youth Series, they continue to advocate for these endeavors.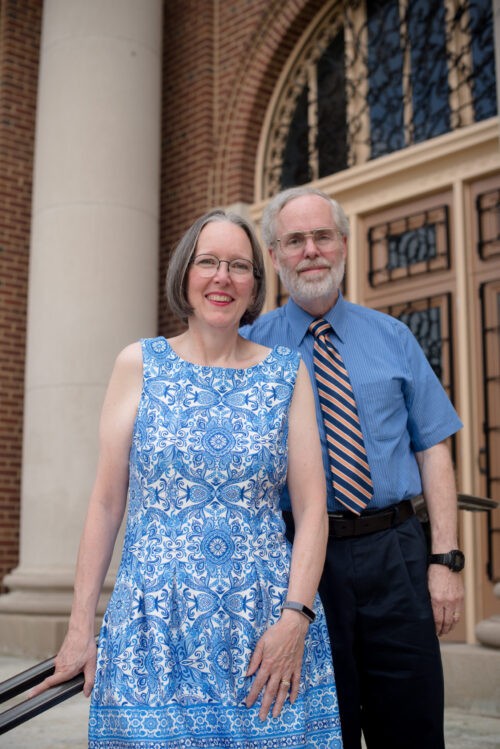 "In sponsoring artists, we are often able to meet them, and in our conversations with these artists and teachers, we have heard how critical our support of young audiences is. And we have witnessed children experiencing the arts and becoming transfixed by what they are seeing and doing during interactive programs."
Susan Haney
no header
The Haneys have also established funds in their name in support of Lyric Theatre at Illinois and Illinois Theatre that can be used to support productions as well as student scholarships. The first Lyric Theatre performance they sponsored was Don Giovanni in which they were allowed to sit in on a rehearsal. This experience led to their interest in sponsoring other student performances. Susan and Michael first sponsored an Illinois Theatre production in 2018 and now sponsor two Theatre productions a year. Student performances produced by Illinois Theatre and Lyric Theatre have not traditionally been sponsored by patrons, so the Haneys have been true pioneers in the way the College of Fine and Applied Arts has approached its fundraising efforts. Susan and Michael continue to offer their guidance and unique perspective on fundraising as part of the Krannert Center Advancement Council, a passionate group of people that serve as advocates and ambassadors for Krannert Center.
The two have established a scholarship in the School of Social Work, and they recently committed a $100,000 gift to the Illinois School of Social Work Student Support Fund. They also have established a STEM Education scholarship with the College of Liberal Arts and Sciences and have contributed to the Lincoln Scholars Initiative, resulting in room 1024 of Lincoln Hall being named after them. In memory of Susan's cousin who was a Vietnam veteran, they have established a fund for the Chez Veterans Center to support veterans with dependents. When asked how they decide where to direct their gifts, Michael said, "The recurring theme for almost all of our philanthropy is on behalf of the students. As long as this is directly helping students, then that's what I'm looking to support." Susan added, "It's not just about supporting a future Broadway or movie star. The productions that Lyric Theatre and Illinois Theatre produce are so well done. They are thought-provoking and give you a different perspective. Art transports you out of yourself so that you can experience something through someone else's eyes and hopefully become a more thoughtful and compassionate person by getting beyond your own experiences."
The College of Fine and Applied Arts is incredibly grateful for the partnership of Susan and Michael Haney. In addition to their generous donations of time, performance sponsorship, and unrestricted gifts to Krannert Center for the Performing Arts, they have also provided support in numerous ways for Illinois Theatre, Lyric Theatre at Illinois, Krannert Art Museum, and Japan House. If you'd like to learn more about how you can turn your passion for the arts into impactful scholarships, experiences that inspire, or nurturing youth series performances, please contact the Krannert Center Advancement Office at 217-333-6700 or advancement@krannertcenter.illinois.edu.