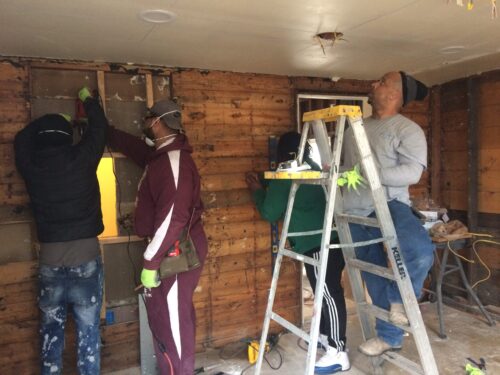 Social Progress Through Design
By John H. Prince (BLA '25)
Many students come into design school with a very particular image or preconceived notion of what design practice is. The name Frank Lloyd Wright often comes to mind, as well as some of the bigger corporate offices like Gensler and SOM that have ample resources and numerous clients. Professors Aneesha Dharwadker and Conor O'Shea emphasize the importance of focusing in on some of the smaller practices that take into consideration the social impact when selecting projects. In reference to a seminar she teaches on global design practice, Dharwadker said, "We can look at these smaller-scale, more socially-oriented practices in juxtaposition with practices that are more established or more familiar. Then we try to understand what the benefits and drawbacks are of both."
This concept of design for social impact is not just something that Dharwadker and O'Shea teach, they also practice it. Dharwadker's Chicago Design Office was founded in 2017 to provide pro-bono design services to community organizations. O'Shea founded Hinterlands Urbanism and Landscape in 2014 to "rethink the contemporary urban realm through the medium of landscape." Aneesha Dharwadker has joint appointments in both the Department of Landscape Architecture and the School of Architecture at Illinois. Conor O'Shea is an assistant professor with the Department of Landscape Architecture and directs the Landscape Strategies Laboratory on campus. Married in 2017, the couple decided to move both of their non-profits into a shared space in Chicago's Ukrainian Village in 2019 – just one of many collaborations.
In 2017, a generous member of the community donated a home that the non-profit decided to renovate into a shared neighborhood asset that would become the FirstFollowers Learning Lab. The renovations and updates would be completed by the people in the program with the help of design consultants. After speaking with Marlon Mitchell, the executive director of FirstFollowers, Dharwadker shared, "The FirstFollowers Learning Lab aligned very well with a lot of my interests, including how architecture can have a positive impact." It was rather early on in discussions that Aneesha Dharwadker realized that there were both architecture and landscape architecture components involved, and so she invited O'Shea to join the project. The two have served as design consultants over the last few years and have provided several drawings and renovation plans that stemmed from conversations with the people the project was designed to help. O'Shea explained, "We are there to facilitate the creation of ideas. We held a design workshop with the folks that would be renovating and using the space to generate conversations and develop plans. This is a key element of the assistance we provide." Construction on the Learning Lab began in 2018 and is an ongoing project that uses design-build principles to teach carpentry, residential construction, and landscape skills to formerly incarcerated people in the Urbana-Champaign community. Dharwadker added, "The renovations and improvements that are made to the building are part of the pedagogy."
The FirstFollowers Learning Lab is an ongoing project – people come through the program, contribute to the renovation, and then reassimilate into society with their newfound skill sets. Since this program started, FirstFollowers has bid on other construction projects in the community based on consultation and designs provided by Dharwadker. Professors Dharwadker and O'Shea continue to explore how design can make positive social impacts in relation to the built environment through their research and philanthropic work.