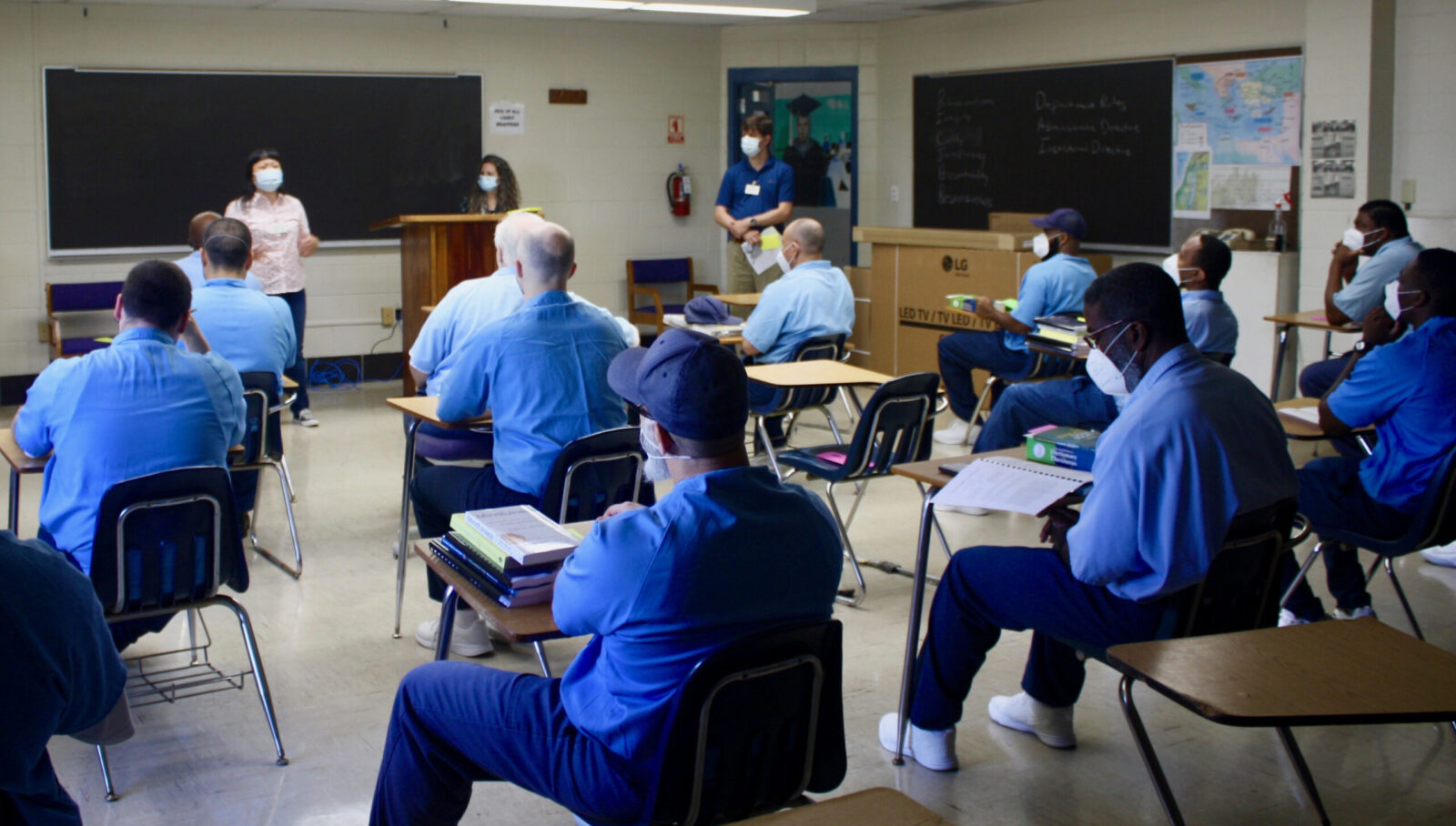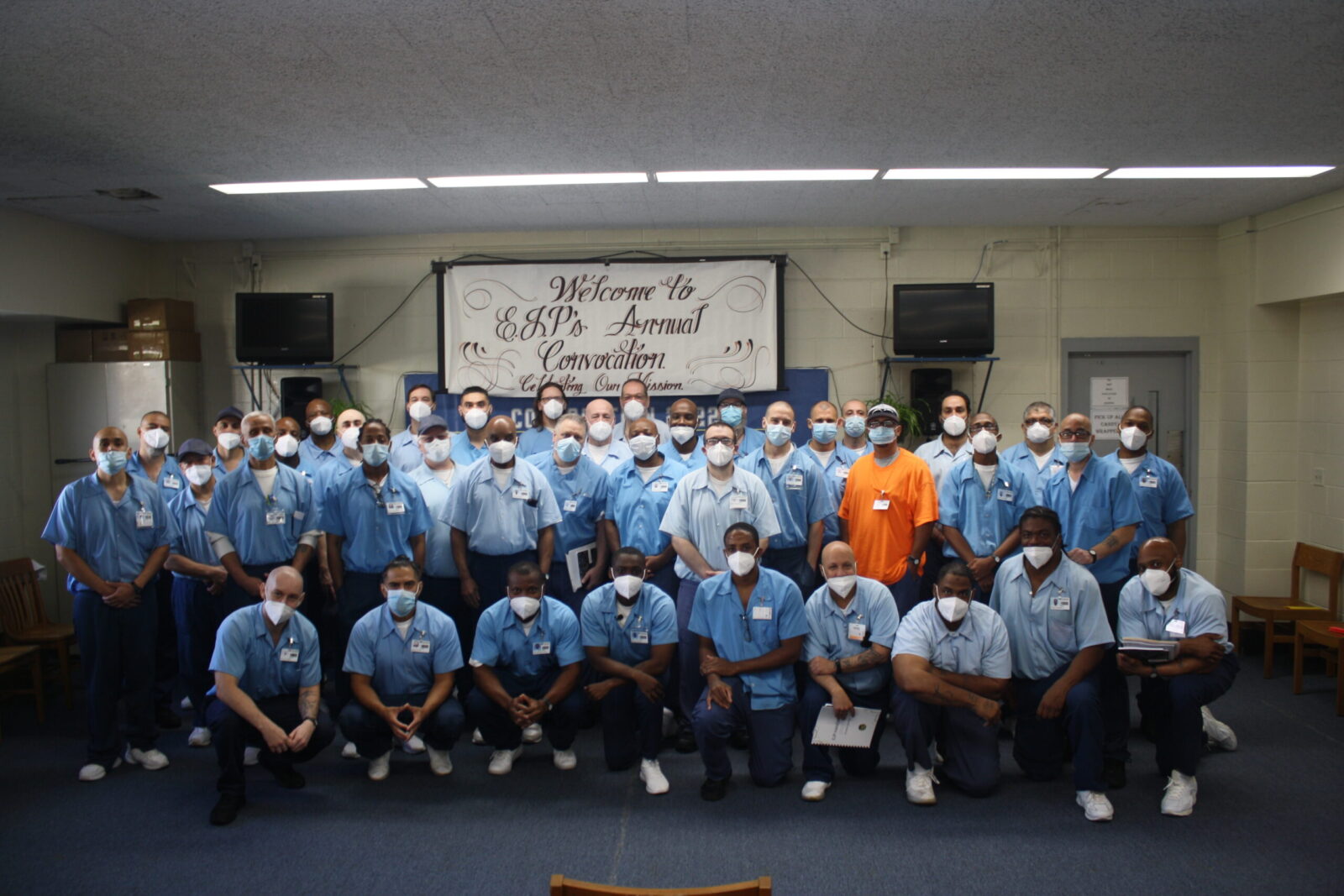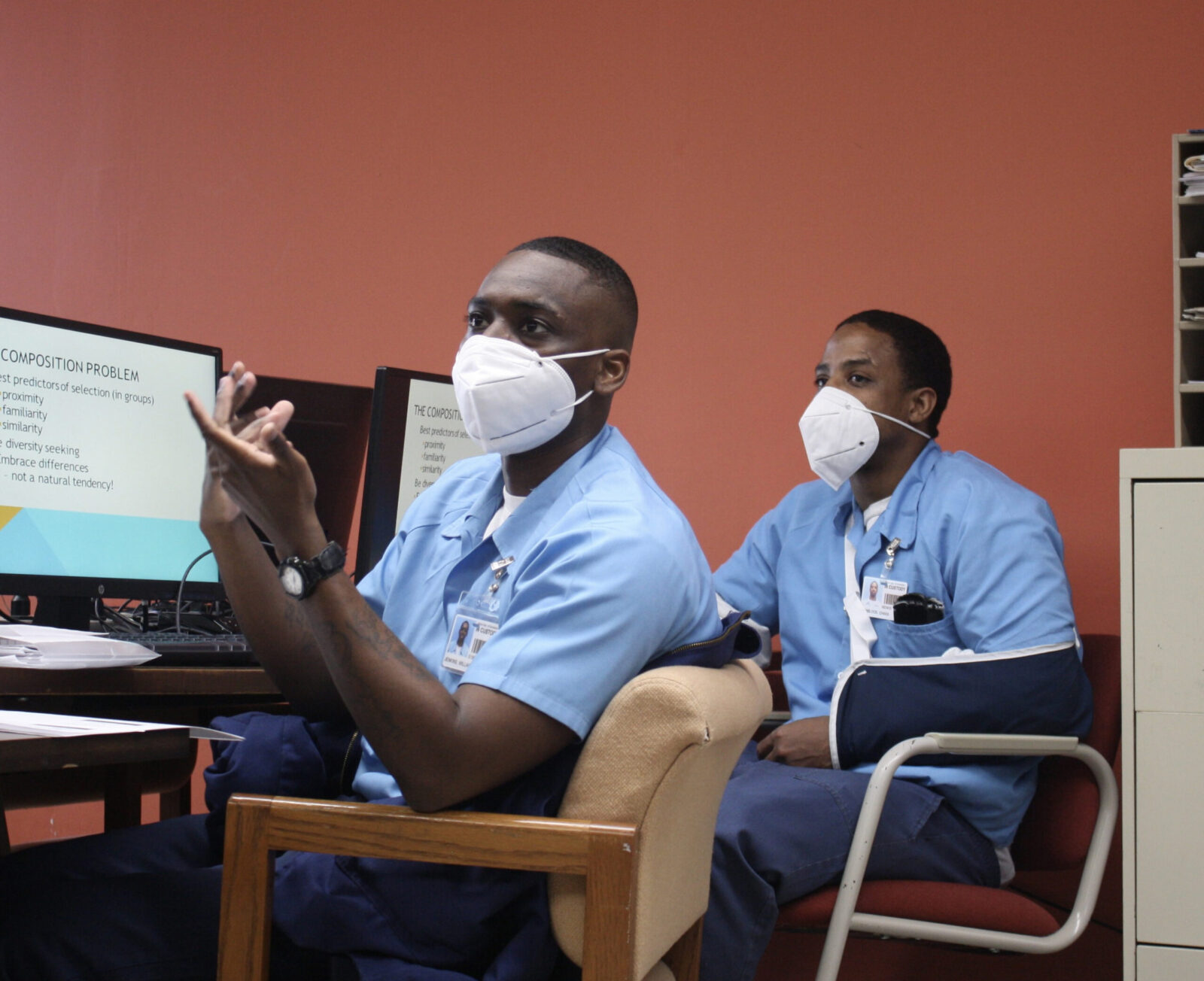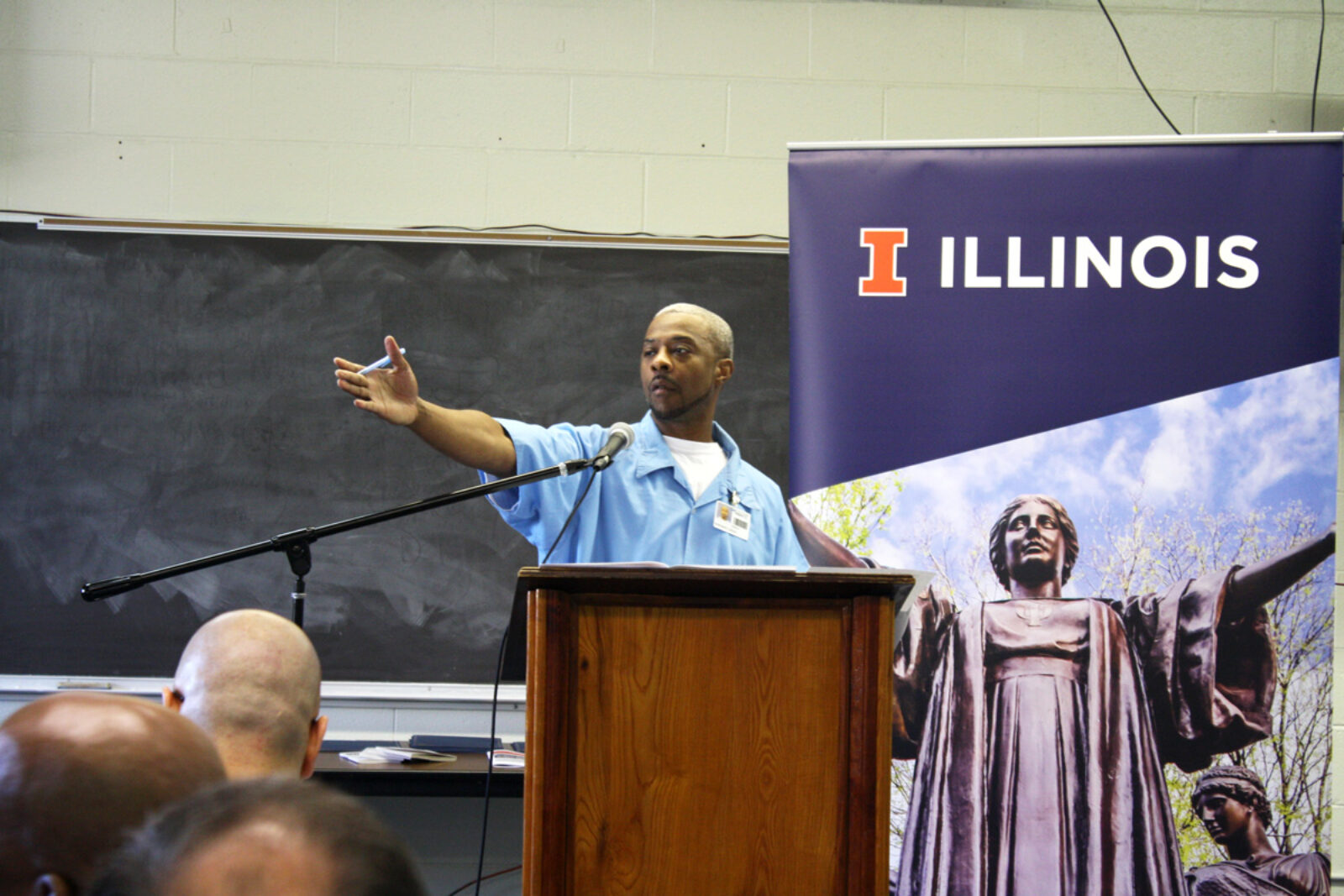 Gallery of images from education justice project
intro
By Mariana Seda
In 2006, Rebecca Ginsburg, associate professor of Landscape Architecture, cofounded and became the first director for the Education Justice Project (EJP), a Higher Education in Prison (HEP) program at Danville Correctional Center in Danville, Illinois. Now in its fifteenth year of programming, EJP has evolved to establish a broad network of resources and initiatives to support their students, transforming the landscape of possibilities for formerly incarcerated people. Ginsburg's involvement in higher education in prison stemmed from an early interest in prison abolition as a graduate student at the University of California Berkeley. She attended a meeting about teaching in San Quentin State Prison but was disappointed when abolition was not addressed. On her way out, someone approached her and asked if she was interested in teaching a course.
"I wasn't. But I said I was because I was the only person of color in the meeting," Ginsburg shared. "Even in the 1990s I knew incarceration disproportionately impacts people of color. So, I can understand why she came up to me. That intervention changed my life, and it reminds me of the importance of reaching out to people."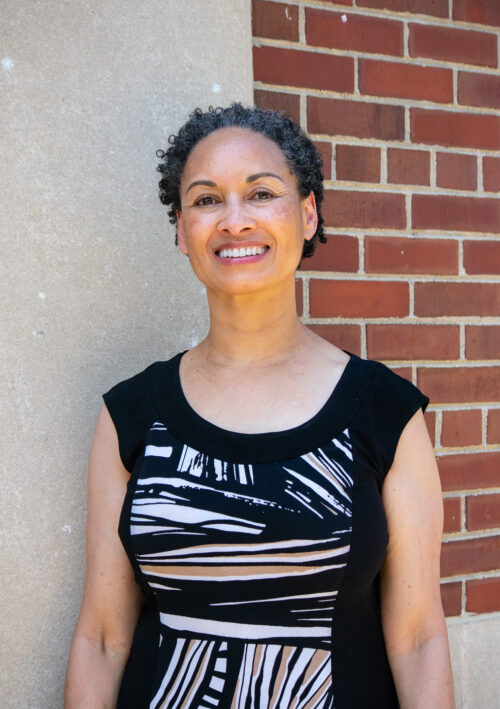 cont
Under Ginsburg's leadership, EJP expanded its initiatives beyond education to address other obstacles that formerly incarcerated people might encounter after they are released from prison. When EJP learned that many of their students were not receiving accurate information about options for their upcoming release, they got to work developing a nearly 250-page re-entry guide titled Mapping Your Future: A Guide to Successful Reentry. The guide provides advice and guidelines based on personal experiences, covering topics such as post-release expectations, reconnecting with loved ones, self-care, voting, community engagement, and sharing wisdom. Demand for the guide has skyrocketed since its first edition, and EJP now distributes thousands across Illinois and nationwide to incarcerated individuals, their families, and other HEP programs.
This increasingly holistic approach differentiates EJP from other HEP programs in the country. The program offers extracurricular programs like a mindfulness group and academic advising, and opportunities for students to write, publish, and develop their own ideas into successes, such as an award-winning ESL program and an on-campus art exhibit. Alumni of the program – those who have taken courses and are now released – are often invited to share their experiences with current students and various groups on the U of I campus and in the local community.
Another initiative, Campus Scan, examines the challenges formerly incarcerated individuals face when navigating the University of Illinois' employment policies and practices. The new Prison-to-Gown Pathway initiative aims to provide support and services for University of Illinois students who have interacted with the criminal legal system. Mike Brawn, EJP alumnus and program manager, has been researching similar programs nationwide and organizing on-campus panel discussions for the fall. Ultimately, the goal is to create a model that Illinois and other universities can adopt to support these students.
EJP's work centers on research-based practices, leveraging data to establish guidelines and measure the success of their own initiatives and other HEP programs. As enrollment and initiatives continue to grow, so does support for EJP. Dozens of U of I faculty, graduate students, staff, and community members serve as instructors, policy developers, tutors, and much more. They also host an extensive team of interns who – in addition to research and other projects – read and respond to letters from prisoners and from their families looking for post-release help.
"It's not just about us providing education to incarcerated people," explained Ginsburg, "it is also about us learning more and thinking critically about incarceration policies and the challenges of reentry and the criminal justice system more generally."
As faculty in the Department of Landscape Architecture, Ginsburg finds clear connections between the field and her work with prisons.
"It's, unfortunately, painfully obvious how working within and learning about prisons and the experiences of incarcerated people contributes to my understanding of sites of repression and exploitation," said Ginsburg. "Like all professionals, landscape architects and architects need to make decisions about their practice and the values that will guide it. No matter how students on campus feel about this, it's essential to introduce them to the idea that their work is political, and they have agency in how they conduct themselves in the field."
Ginsburg's work has brought her to some impressive tables, including her 2016 trip to the White House to speak on prison reform and her recent work with the Illinois Higher Education in Prison Task Force recommending new legislation to Governor Pritzker to improve higher education opportunities for incarcerated and previously incarcerated people. In May 2023, Illinois Humanities recognized Ginsburg with a Public Humanities Award, honoring leaders who "exemplify the humanities in action across the state." In her acceptance speech, Ginsburg acknowledged the University of Illinois as a unique environment that fosters the development and growth of programs like EJP. She also invited program alumni to join her for the ceremony in Chicago.
"It was immensely powerful for them to see that the larger philanthropic and progressive community in Illinois considers the education of incarcerated people to be important," Ginsburg shared. "While incarcerated, they had no way of knowing that the apparatus that supports and sustains a program like EJP is wide and deep. Seeing their affirmation and delight was the biggest honor when receiving the award."
_____________________________
Rebecca Ginsburg is an associate professor with the Departments of Landscape Architecture; Architecture; Education Policy, Organization, and Leadership; African American Studies; and the Center for African Studies at the University of Illinois Urbana-Champaign. To learn more about the Education Justice Project, visit educationjustice.net.