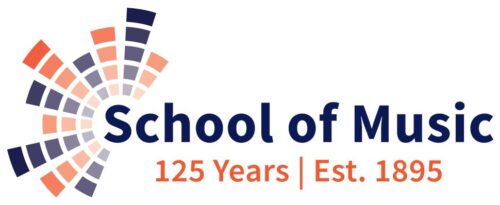 The School of Music Celebrates 125 Years and Looks to the Future
By Jeffrey Sposato, School of Music Director
During the last weekend of April, the School of Music celebrated its 125th anniversary by doing what we do best – making great music. Audiences got their choice of ten concerts, ranging from jazz and lyric theater to choral, orchestral, and band music. And of course, there was birthday cake! It was a joyous weekend in which students, parents, faculty, staff, alumni, donors, and our faithful audiences came together to celebrate the school's illustrious past and to look forward to what the future holds.
This future will necessarily be very different from our past. We will, of course, continue to honor our history and traditions, some of which – like our world-renowned band program – actually predate the school's creation in 1895. But we also recognize that what our students need to be learning, and who their audiences will be, is changing rapidly.
Over the past four years, the faculty and staff at the School of Music have been engaged in a process of re-envisioning our programs to better prepare our students and better serve our state. A tremendous amount of work has been done, much of which can be summarized by one big idea: creating opportunities and improving access.
Many of our graduates will go on to performance or teaching careers, but some will want to choose a different path. We want to ensure they've received an education that opens the door to an array of career options after graduation. As a first step, we are now offering a series of entrepreneurship courses, with topics that range from digital competency to copyright law to performing arts management.
Our students are fortunate to receive their musical instruction at a world-class research university that offers all of its undergraduates a terrific liberal arts education. We need to ensure that they are able to take full advantage of this and can draw connections between these complementary aspects of their schooling. Our Computer Science + Music program is an integral part of this, as is encouraging students to enroll in complementary minors such as business, communications, leadership studies, and public relations.
The School of Music has a moral, civic, and professional responsibility to embrace the cultural diversity of the state of Illinois. And so, we are dismantling barriers – beginning with last year's overhaul of our audition requirements and musicianship curriculum – that have historically prevented us from enrolling musically talented students who received alternative types of training. We want to be a home for all kinds of musical talent and training, including those who sang in church choirs or played in high school band or orchestra – people who have amazing ability and drive but didn't have the benefit of private lessons or special summer camps.
While we continue to celebrate the classics from Bach to Brahms, we will expose our students and our audiences to fantastic new and newly rediscovered works by composers of color and women. This was on display in this year's New Awakenings concerts directed by Barrington Coleman, which featured Joel Thompson's Seven Last Words of the Unarmed and Christian McBride's The Movement Revisited—A Musical Portrait of Four Icons, a work that pays tribute to Rosa Parks, Malcolm X, Muhammad Ali, and Martin Luther King Jr.
Faculty and students have a large role to play in this transformation, but so do alumni and donors. I am deeply grateful to the many alumni who share the belief that the School of Music needs to evolve if it is to stay vital, even if it looks a little different from the school they attended. And I am equally appreciative of the donors who have provided critical philanthropic support in helping the Illinois School of Music invest in these changes. Together, we can all look forward to the next 125 years!