ISYM
By Amy Karagiannakis
The Illinois Summer Youth Music (ISYM) program has been bringing together young musicians and leading music educators to the Champaign-Urbana campus every summer for over 60 years. With over 20 different programs ranging from Band, Chorus, and Orchestra to Composition, Music Technology, and Hip Hop, there is something to challenge and nurture musicians at every level.
part2
Students spend one week making music and living with other ISYM students in university residence halls. Combine this with fun recreational activities that culminates with a concert for parents and family, and students leave ISYM with an unforgettable experience that stays with them for many years to come. Barbara England knows this feeling all too well as she attended ISYM as a flutist in the early 1960s. She still remembers the pride she felt performing for her family on the Quad followed by the sadness of having to leave the friends she had formed such strong bonds with in just one week time.
Barbara and her husband Terry England attended some ISYM concerts last year, and watching these young musicians perform, the memories of her own time at ISYM came flooding back to her. She couldn't put into words how invaluable that experience was for her – not just the music she learned and performed, but the friends she made and the independence she gained. It was that moment that led to the England's most recent $25,000 gift to the Illinois Summer Youth Program. Barbara wanted to ensure that other young people have the opportunity to experience all that ISYM has to offer, regardless of their ability to pay for tuition. It is because of generous donors like the Englands that the School of Music is able to offer scholarships for ISYM's different programs.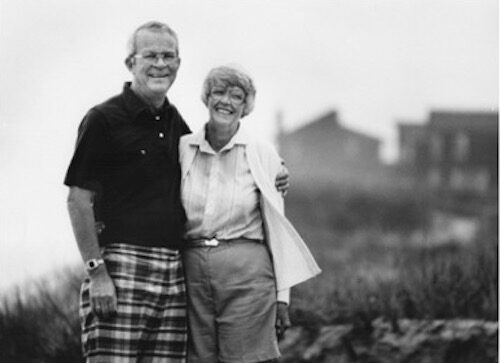 part3
"Growing up in Park Forest, IL in a family of seven children, there wasn't always money for extracurricular activities like music camp. My parents, Bob and Ellie Walker, appreciated the arts. I'm so grateful for my ISYM experience and wanted to do something to ensure future young musicians can attend," shared Barbara.
Following her time at ISYM, Barbara continued to play flute for her high school band at Pekin Community High School under the direction of the original "Leader of the Band" Lawrence Fogelberg, the father of renowned Illinois singer-songwriter Dan Fogelberg. She has always been appreciative for the community and sense of belonging that playing in a band provided. Many years later, as a mother, Barbara was delighted that her daughter wanted to attend ISYM for percussion. It was a different perspective to sit in the audience and watch the final concert, but the same feelings of pride and joy endured.
The Illinois School of Music is so grateful for the support of generous community members like Barbara and Terry England. It is because of passionate arts advocates like them that the Illinois Summer Youth Music program will continue to make a difference in the lives of young musicians well into the future. If you would like to learn more about how to designate ISYM or another impactful program in your estate plans, please contact Director of Advancement David Allen.