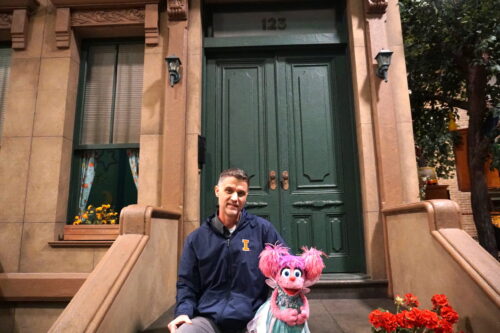 M is for Music
By Amy Karagiannakis
From section leader of the Marching Illini drumline to vocal music director for Sesame Street, Paul Rudolph (BS '89 Music Education) has taken some unexpected yet impactful detours along his career journey. Each project, gig, and job he took along the way has played an important role in his success. As Rudolph described, "It was a long and winding road to Sesame Street, for sure." Now a three-time Emmy award-winning music editor and two-time Emmy-nominated vocal music director, Paul Rudolph is always making music. That passion for creating and composing started at a young age and grew stronger during Rudolph's time at the University of Illinois.
Rudolph's first official venture into composition took place in junior high school when he wrote his first marching percussion cadence titled "Paradiddle Cadence." After seeing the Marching Illini perform while he was in high school, Rudolph knew he wanted to attend UIUC and play in that band. Although Rudolph's focus in college was music education, his passion for percussion and composition was fueled by the support of inspiring people like Gary Smith, former director of the Marching Illini. It was not unusual, under the leadership of Smith, for students to write drills to be performed at major events. Rudolph was excited to get that opportunity in 1987 as an undergraduate when Smith paired him with an engineering student to co-write a drill that would conclude with the Rolling Stone's "Satisfaction" and include a formation of the band's famous logo. Rudolph recalled, "Gary had a way of giving you a sense of ownership and responsibility to a project, by your hard work and determination. That experience co-writing that drill and as section leader of the drumline my senior year really strengthened my leadership skills."
Shortly after Rudolph graduated with his degree in music education, he landed a job as the assistant band director at Mahomet-Seymour High School in Illinois. Eventually that passion to compose led him to return to the School of Music at Illinois to pursue a graduate education in music composition. It was Professor Scott Wyatt's experimental music class that first introduced Rudolph to the future of digital audio technology and a field that was rapidly advancing. At the advice of a friend and fellow UIUC alum who worked as an assistant to a film scoring agent, Rudolph decided to leave central Illinois for California and look for work. Rudolph was soon connected with Richard Gibbs, a composer working in LA, who offered him a position as his assistant. It was through this work on the Tracey Ullman Show and various made-for-television movies that Rudolph learned how to edit and score scenes of music. In 1995, Gibbs got a call from The Jim Henson Company to be the music director for what would become the second iteration of The Muppet Show, Muppets Tonight. As the assistant music director and mentee of Gibbs, Rudolph was introduced to the world of Muppets and television production. Most significant about this time in Rudolph's life–  it was on the set of The Muppets Tonight where he met his wife Leslie Carrara-Rudolph, who later went on to become Sesame Street's Abby Cadabby.
Rudolph honed his conducting, composing, and digital audio editing skills while working for the commercial composing team of Trivers/Myers Music from 1997 to 2008. One of Rudolph's most memorable experiences during this time in his career was when he conducted Herbie Hancock and Lang Lang for a United Airlines commercial at Capitol Studios, followed by a separate session later that day in which he conducted about 35 members of the Los Angeles Philharmonic. Rudolph credits the connections and friendships that he formed with colleagues on the set of Muppets Tonight for the next big break in his career. With his wife in New York, Rudolph was actively looking for work on the East Coast. He was excited when he got a call from Kevin Clash, the co-executive producer of Sesame Street at the time, who was familiar with Rudolph's background in arranging music and vocal direction. Clash asked him to prepare a version of "Sing a Song" in any style he wanted. Rudolph did what he described as a "cheesy kind of loungy bossa nova arrangement" of "Sing a Song" that included the vibraphone. A few weeks later he was offered a job on Sesame Street.
In the over thirteen years working as the vocal music director on Sesame Street, Paul Rudolph has collaborated with guest artists such as Elvis Costello, Prince, Bruno Mars, Lin-Manuel Miranda, John Baptiste, and Dave Grohl. He was the vocal music director and vocal arranger for the Swingin' Sesame Street Celebration live from the Lincoln Center. As the vocal music director of PBS's Nature Cat, Rudolph works with Saturday Night Live cast members such as Taran Killam, Kate McKinnon, Kenan Thompson, and many more. Despite all these big names, when asked if there was a particular artist in his career that he was nervous or excited to work with, he said – without hesitation – Emilio Delgado. Delgado played Luis, the Fix-it Shop owner on Sesame Street, from 1971 until he passed away in 2022. Rudolph recalled, "I was totally nervous going into my first day on set because Emilio was going to sing and play guitar live." Delgado would need to pop up in front of the camera to sing the "Cowmonster Pair theme song" periodically, and because of the comedic timing that was necessary to pull off the scene, they didn't want to pre-record it. Because the lyrics in each version were slightly different, Delgado had asked Rudolph to stand next to the camera and lip sync the lyrics along with him. Rudolph remembered thinking, "Luis the Fix-it Shop guy needs my help! I was nervous enough just to be working with such a show legend, but now, to help him, I need to get the timing just right. It worked out great, but that was day one for me on set."
Paul Rudolph, while acknowledging that it is "absolutely a dream to work on Sesame Street," continues to look forward to new projects and opportunities that challenge him, while also making time for himself. He added, "Finding a musical passion outside of your daily routine, something that inspires you to create and practice, is so important." For Rudolph, that passion is his vibraphone and percussion ensemble GLANK, which he formed in 2002. GLANK is a percussion group that uses found object instruments and recycled materials to make music. "An old heat sink taken from a computer is a musical instrument to me. Or even something as basic as an old aluminum ice cube tray," shared Rudolph. It was Rudolph's final School of Music composition recital in April 1995, in which he used the Krannert Center garage as an instrument of echo for a piece called "GLANK," which later led to the founding of his ensemble. Rudolph's success and happiness may be the result of many twists and turns, but he says one aspect has remained constant, "Make time and space for music in your life and build on what inspired you early on."