part 1
By Amy Karagiannakis
School of Music alumna, philanthropist, and entrepreneur Sheila Johnson (BME '70) has been recognized by PARADE Magazine as the most influential woman in business and as Washington Business Journal's 2022 CEO of the Year. As the cofounder of Black Entertainment Television (BET), CEO of Salamander Hotels & Resorts, co–owner of the Washington Wizards, Capitals, and Mystics, and an accomplished violinist, Sheila Johnson is truly an inspiration to Illini everywhere. This year, she released her memoir Walk Through Fire, and FAA was given an exclusive look before it hit shelves.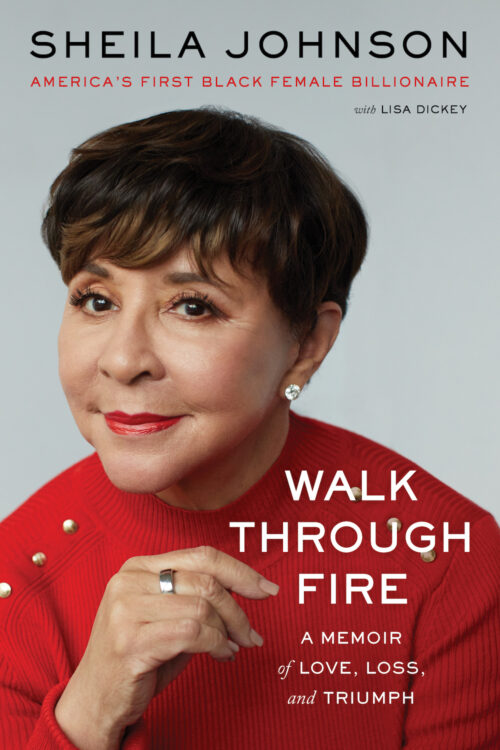 part 2
Sheila Johnson takes readers on a heartening personal journey from her childhood through her adult life that feels genuine and sincere. She speaks directly to you without holding back, which adds a level of authenticity that many memoirs are unable to reach. The bond that Sheila formed with her high school violin teacher and mentor Susan Starrett is felt with every written word. It is no surprise that she established an endowed chair in violin in Susan's name with the School of Music in 2008 to carry on the legacy of this woman who clearly meant so much to Sheila throughout her life. It was Susan Starrett who connected Sheila with Illinois School of Music faculty Dan Perrino and Paul Rolland. Sheila describes Dan as a "dynamic force on campus" who was always there for her, ready to help. As dean of student programs and services at that time, Perrino was instrumental in the creation of the African American Cultural Program and the Black Chorus. Shelia Johnson also established the Daniel Perrino Chair of Jazz Studies. Sheila Johnson's 2008 gift of $4M established both chairs and remains the largest endowed gift the School of Music has ever received. 
Walk Through Fire tells the story of an accomplished businesswoman whose ability to identify lucrative opportunities and make strategic decisions has led to her incredible success. Sheila is also not shy about giving credit where credit is due, which she notes in her book throughout every step of her career. It's clear that the University of Illinois played a significant role in her success – from the faculty that strengthened her passion for music education to the life skills that she gained. Sheila Johnson dedicates her memoir to "all the women who've walked through fire and lived to tell about it." Whether you identify as one of those women or are close to someone who does, this memoir is an inspiration to all. Walk Through Fire was published this month and is now available online and in bookstores everywhere.