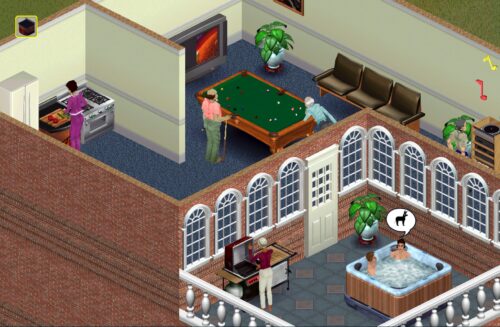 Intro
By Mariana Seda
"The very ugliest thing you ever make may indeed end up in MoMA." That is the parting wisdom Jami Becker (MArch '95, BS '90 GIES) shared with architecture students during a visiting lecture in early 2022. Becker was on the original design team for the first The Sims computer game that launched in 2000 and quickly became one of the top-selling video games in history,  setting a new precedent for design and game behavior in the early 21st century. The artwork for that game, in all its pixelated glory, is now in the Museum of Modern Art in New York.
Becker's career spans a multitude of industries including architecture, technology, entertainment, and fashion. Deeply curious and innovative, her work often smudges the lines between art, design, and technical solutions. It comes as no surprise that her journey from  architecture student to Mobile Architect for multiple global companies was anything but direct.
As a young artist, Becker was driven by creativity. "I imagined someday I would be like Frank Ghery filling the world with sculptural objects individuals would wonder at," said Becker.  During her undergraduate years, she enjoyed photography and served as the photo editor for the Daily Illini. Her dream to become an architect led her to pursue a Master of Architecture in the early 1990s.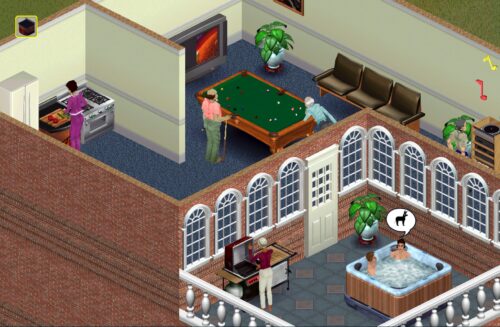 middle
In the graduate program, Becker had the distinct pleasure of working with Professor Kathryn Anthony, a highlight of her time at the School of Architecture. Becker designed flyers for  Professor Anthony's projects and presentations and learned how to work with computers using punch cards to analyze research data. While the research fascinated Becker, it also highlighted deep inequities within the architecture field, making her wonder whether the industry would progress quick enough to suit her. As an occasional escape, she turned to her budding interest in computers.
"I began cheating on my architecture degree at the Beckman Institute," explained Becker, "taking classes there, with the very first supercomputer and the rumblings of Netscape humming in the background. I realized that on the computer I could design anything without the parameters of reality bogging me down."
After graduating with her Master of Architecture in 1995, Becker left for California to pursue work in the computer industry. She had her heart set on designing animated sets for Disney  films. Dream employers like Disney, Pixar, and even architect Arthur Dyson offered her positions, but they each required sacrifices Becker was not willing to make. Instead, she took a job at a small software development firm in Berkeley to support herself. Soon, Becker felt at home managing design projects for different software programs like games, educational software, and a 3D home design tool. "I loved the challenge of learning the software and riding the front edge of technology," said Becker, "I also finally got to design sets, including the original Star Wars Pod Racer Game. I'd hand designs off to the 3D artists, and they would program them into reality."
Eventually, Becker lands a role working on the original The Sims video game at Maxis (soon acquired by Electronic Arts). With a team of 12 led by Will Wright, the creator of SimCity, Becker remembers the experience as both exhausting and exhilarating. "I had to create and animate 99.9% of the objects in the original PC-based game. Another designer made the characters, and another animated them. We worked all night – just like in architecture school. We would jump up and down when a programmer would achieve something impossible.
End
The original The Sims became the best-selling video game shortly after its launch in 2000. Just two years later, it became the top-selling PC game in history at the time. Becker's work for The Sims was on the cover of the Wall Street Journal Business Section and U.S. News and World Report.
In 2012, MoMA acquired a selection of 14 video games as part of a new category of artworks. Games as iconic as Pac-Man (1980) and Tetris (1984) were some of the first acquired along with The Sims (2000) and SimCity 2000 (1993). In initial announcements, MoMA noted that games were selected based on a variety of factors including cultural and historical relevance, aesthetic expression, function and behavior, and innovative use of technology. Today, MoMA has over 80 works in their software collection spanning as far back as 1966.
Becker's journey did not end with The Sims or MoMA, though those were foundational moments in her career. After her time at Electronic Arts, Becker developed online startups, an organic children's clothing company, and mobile applications for Apple at a time when the iPhone was just emerging. Today, Becker still works at the intersection of technology and design, taking ideas and making them reality.
"Some people's careers are like a rocket ship with a clear trajectory, but mine is more like an adventure climbing a mountain through an ever-changing landscape," said Becker. "I have stayed riveted by the front edge of technology," she continued, "and always with the tools I keep in my backpack: curiosity, creativity, and design and tech acumen."