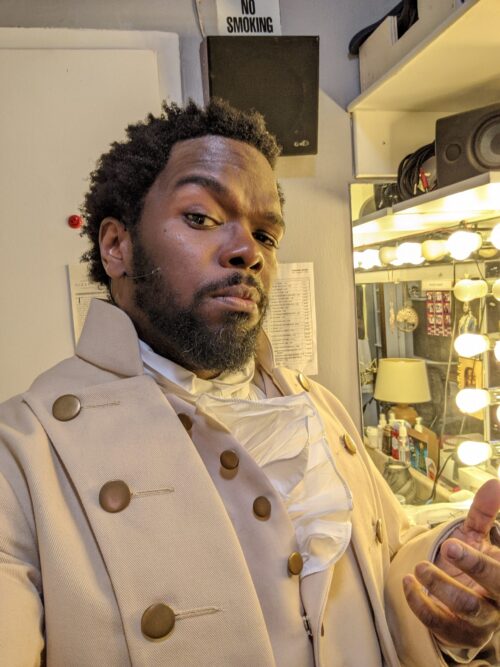 part 1
By Amy Karagiannakis
Illinois Theatre alum and Champaign native Jonathan Butler-Duplessis (BFA '10 Acting) made his Broadway debut as Hamilton's iconic Aaron Burr in February 2023. Originally brought on as part of the ensemble, Jonathan was notified just days before joining the cast on stage that he would be debuting as Burr.  
Jonathan is no stranger to the works of Lin-Manuel Miranda – in 2013, he played Benny in Chicago Paramount Theatre's In the Heights. He was nominated for the Joseph Jefferson Equity Award for Supporting Actor in a Musical in 2017 for two separate Chicago performances: Sebastian in The Little Mermaid and Jim Conley in Parade. He won the Jeff Award for his role as Jim Conley in Parade (Writers Theatre) under the direction of Gary Griffin.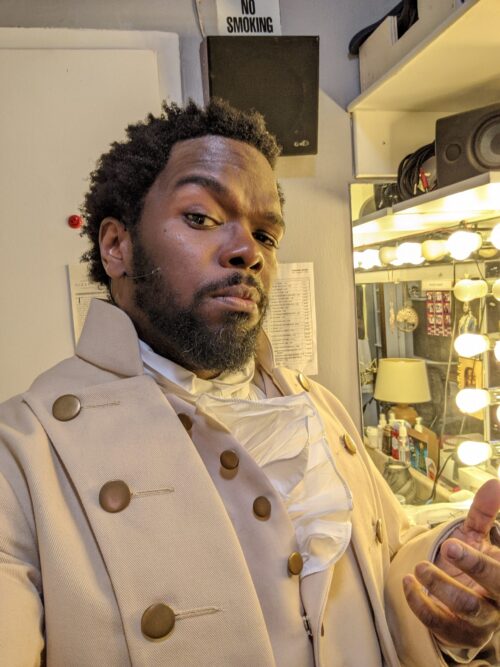 part 2
The actor auditioned for many years to be part of Hamilton but eventually accepted that it wasn't going to happen. After hearing about an opening in the Broadway ensemble from his agent in late 2022, Jonathan decided to give it one last shot. He received a call-back, and despite being stricken with COVID-19 at the time, nailed the follow-up Zoom audition from his Chicago apartment. The producers flew him out to NYC to audition for various roles in the Broadway hit, and he was brought on as an ensemble member of the cast.  
"This could have happened faster but not better. I'm bringing 40+ shows and a decade of experience to Broadway because I didn't skip any steps."
Jonathan Butler-Duplessis (BFA '10 Acting)
part 3
In addition to Aaron Burr, Jonathan also currently serves as understudy for the roles of Hercules Mulligan, James Madison, and George Washington. Hamilton premiered on Broadway at the Richard Rodgers Theatre in 2015 and is now in its eighth year.