steinrock intro
By Mariana Seda
How do you go viral on TikTok? Try educating the public about how Hollywood films sex scenes while using your research to revolutionize the entertainment industry. That's essentially how alumna Jessica Steinrock (MFA '17, PhD '20) has reached nearly 40 million likes on the popular video platform.
Steinrock, who was recently featured on the front page of The New York Times, has gotten a lot of publicity for her pioneering work in intimacy coordination and direction, a relatively new field that aims to build consent-based practices around intimate moments (anything from dancing to kisses to simulated sex) onscreen and onstage.
An intimacy coordinator, like a fight choreographer, puts safety and believability at the center of their work. They serve as an advocate and liaison for actors who are asked to perform nudity, sex simulation, or other actions that could put someone in a vulnerable position. Directors also collaborate with intimacy coordinators to choreograph intimate scenes to help make the relationships look real and tell the story effectively.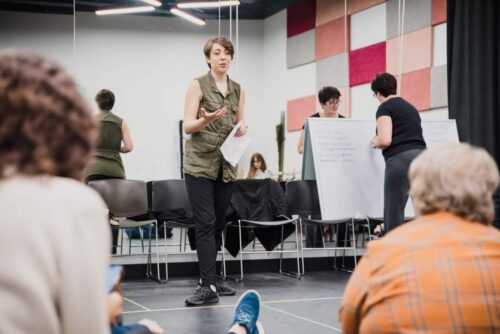 continued
"For so long, filming of intimate scenes has been shrouded in so much mystery," explains Steinrock. "Actors are often not taught what to expect. Consent needs to be informed. And an actor requires time to consider whether the things being asked of them are things that they want to do."
During her time at the U of I Department of Theatre, Steinrock researched intimacy direction as a new field of practice and professionalism, but also as a "model for other disciplines to redefine their relationship to power, inclusion, and sustainability," as she writes in her dissertation. As CEO of Intimacy Directors and Coordinators (IDC), Steinrock continues to translate her doctoral research into real world practice through education, training certifications, and professional experiences.
"Our company really focuses on education," explains Steinrock. "IDC's mission is to equip every institution and individual artist in the entertainment industry with the resources and education needed to create a culture of consent in which intimate stories can be told with safety and artistry."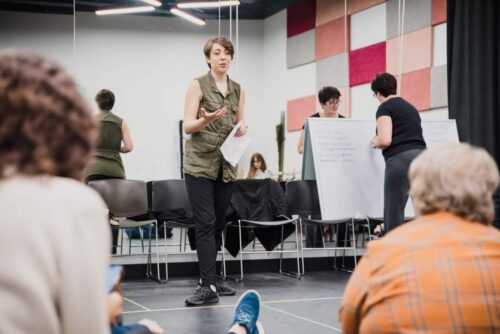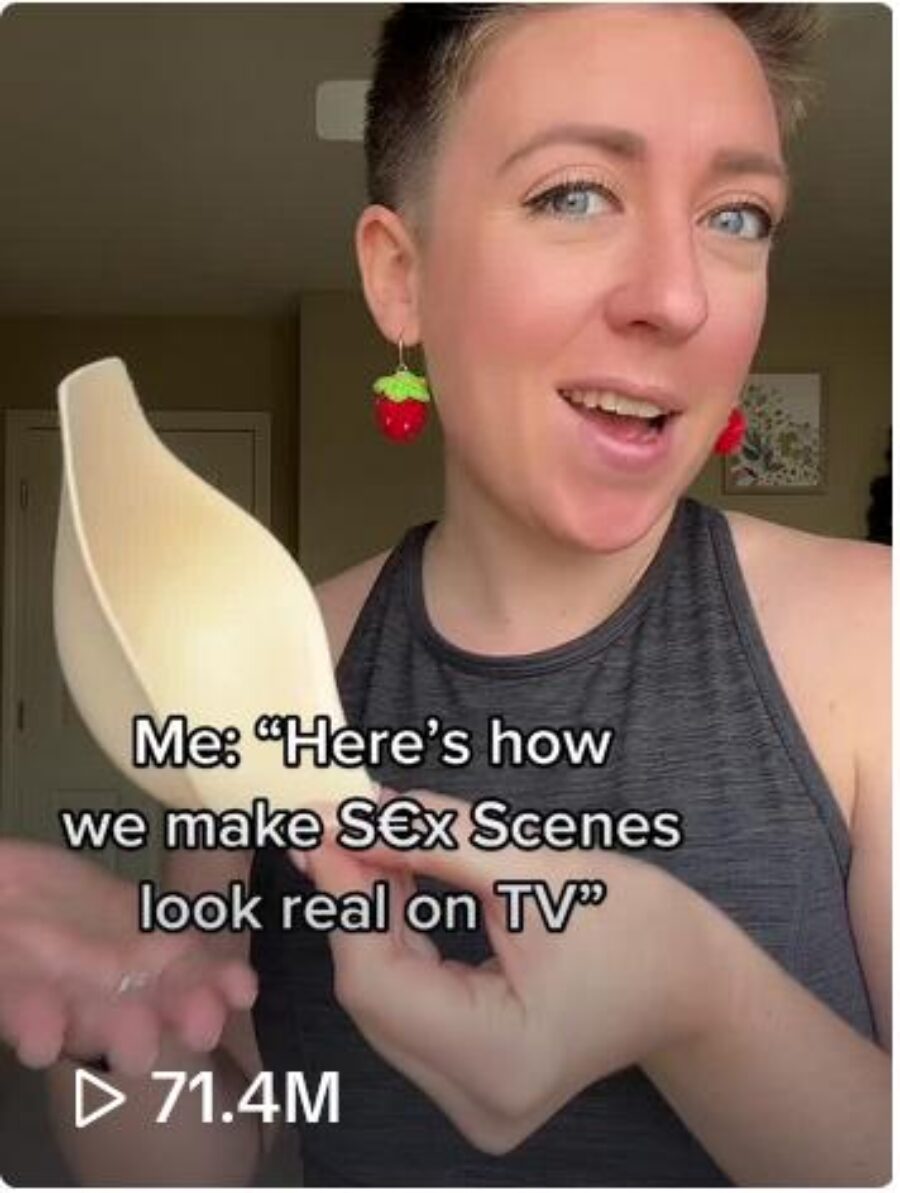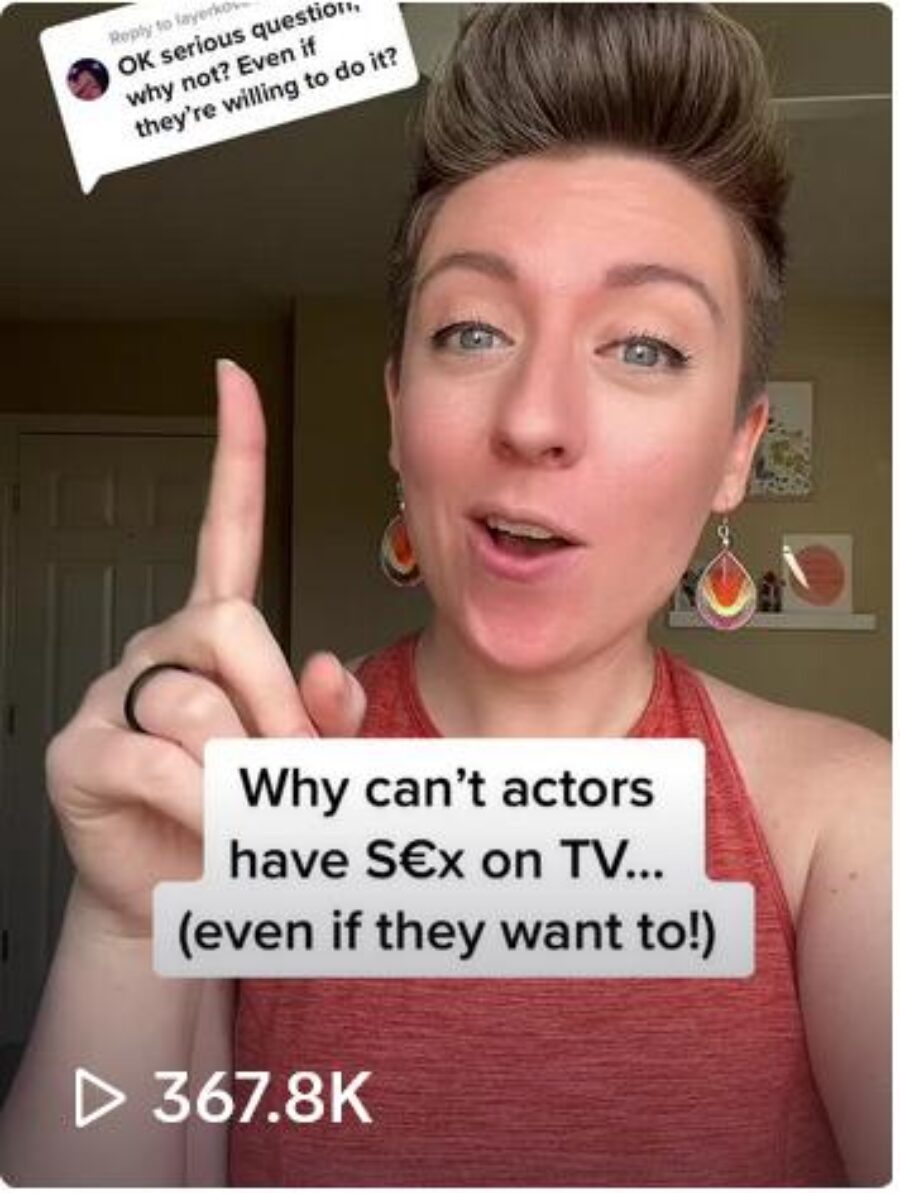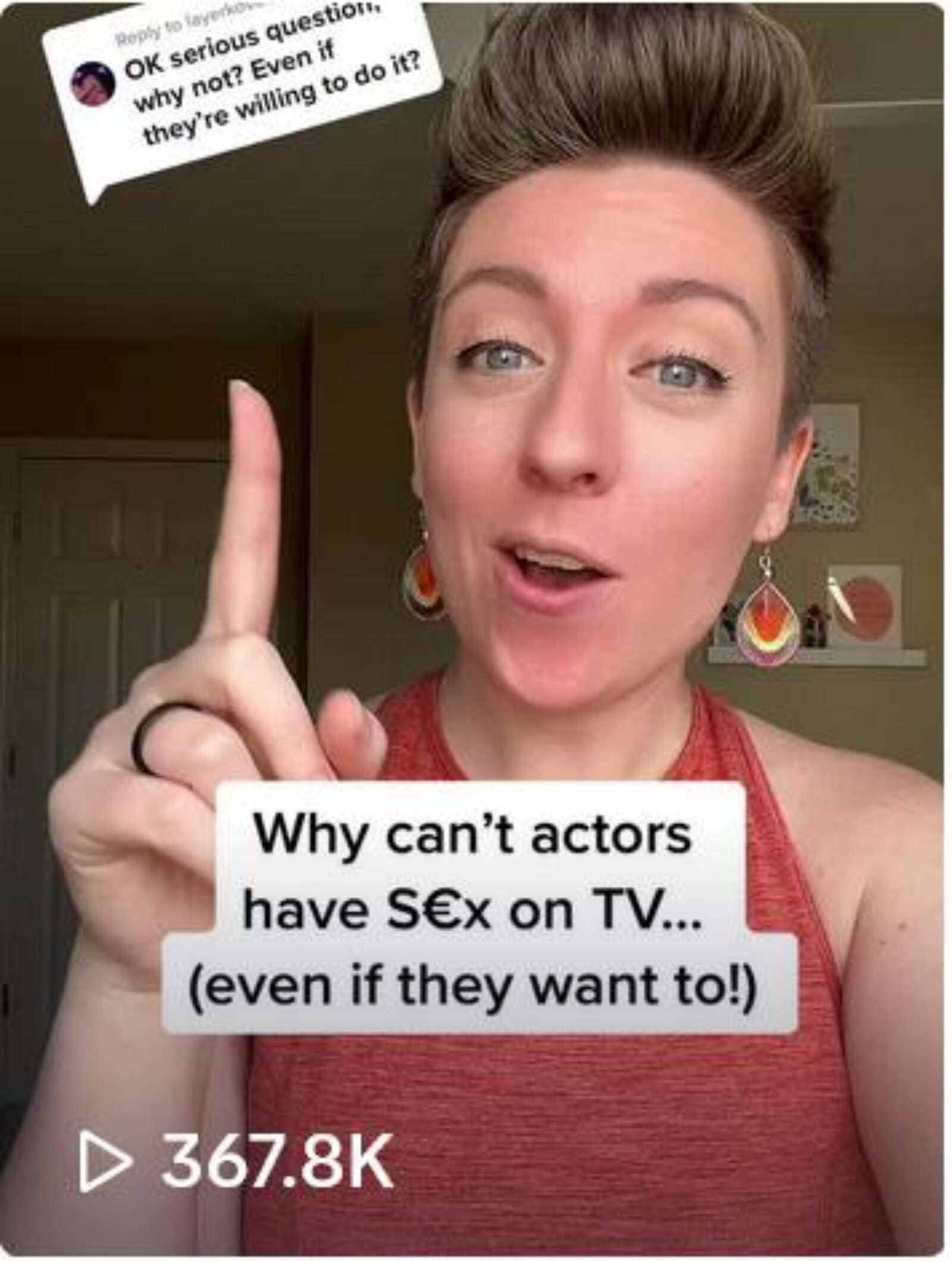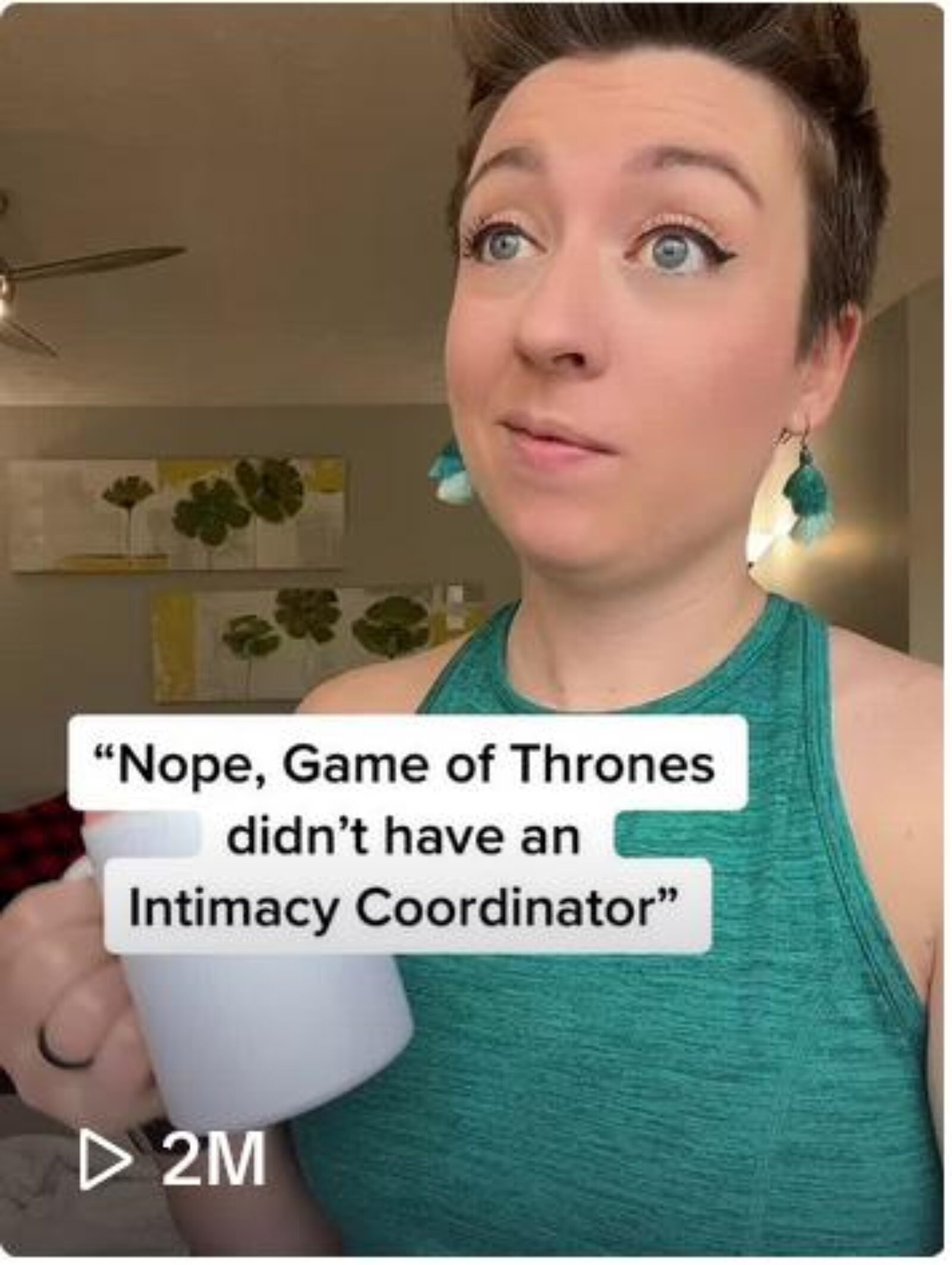 Steinrock TikTok Gallery
Jessica Steinrock uses her TikTok channel to educate millions of people on consent in the entertainment industry.
more continued
So how does an industry approach a "culture of consent" today? According to Steinrock, this requires training intimacy professionals to be both choreographers and educators when they enter spaces. It also calls for integrating consent practices into every stage of a profession, including higher education and training institutions.
Even as work environments for theatre, film, and television evolve into more consent-based cultures, there remains a disconnect between higher education and professional settings.
"We are still, especially in education spaces, prioritizing a guru mentality," Steinrock clarifies. "There's a lot of 'you have to be the director's vision;' you are there to be molded by an instructor. And that's, historically, what acting training has been. The problem with this is that you lack autonomy."
In her teaching, Steinrock has noticed that incoming college students arrive with an understanding of the #MeToo movement and its implications and far more awareness of issues like boundaries, identity, oppression, and consent.
"They pick it up really quickly," says Steinrock, "but it's also creating some clashing between the way things have been and the way things are going."
In recent years, much of the work in higher education and conservatory spaces has been about bridging the gap between the knowledge and experience that faculty bring with the rapid expansion of consent-based practices in theatre making.
"This is not only necessary for ensuring respect and autonomy for individuals," says Steinrock, "it's important for the benefit of a student's professional career. This is where the industry is going. So, if a program wants to pride itself in being a professional training program, this is now a part of that profession."
The recent boom in visibility for intimacy professionals has been in part due to Steinrock's popular TikTok channel that "breaks down the spicy scenes in TV and film." Using comedic acumen (from years of improv training) and a shame-free approach to people's curiosity, Steinrock explains how intimate scenes were likely choreographed and filmed to look very real but are actually done safely through careful negotiation, clear communication, and consent. She also spends time diving into the wider conversation about consent, responding to current events and advocating for more openness about the once taboo topic.
"I want to see more directors being consent advocates. I want to see more fight directors being consent advocates. I don't think that it just needs to be intimacy people," shares Steinrock. "My hope is that a director can be like, 'oh, I can stage a slap. I can stage a kiss.' But if we're going to have a lot of nudity or going to have simulation, then they know to hire an intimacy professional."
Why don't we see many actual examples of intimacy choreography in her videos? "There's literally a guideline against sex simulation on TikTok. So I have to be really careful. Even in one of my videos where I'm talking about Queen Charlotte, I'm just demonstrating a little, and they were like 'nope' and took it down."
You can follow Steinrock's work on her TikTok channel @intimacycoordinator.