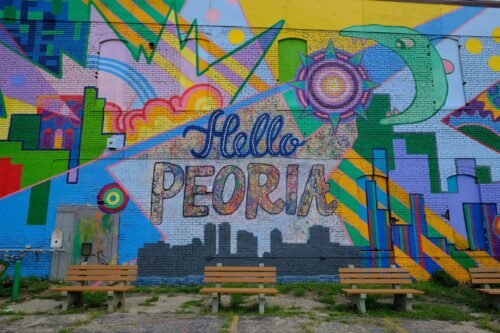 Mapping the Arts 1
By Mariana Seda
Arts can be a powerful agent for community change. Through creative placemaking, communities partner with artists to integrate arts-based practices into community development efforts. This approach fosters connection across sectors to improve physical and economic health, social justice, and wellbeing. As more communities adopt creative placemaking strategies, urban planners are reimagining how to collect, interpret, and share data to help transform communities.
To better understand the contributions of arts and artists within a community, Urban and Regional Planning professors Jennifer Novak-Leonard and Andrew Greenlee and doctoral student Emma Walters are leading a project that aims to reflect artistic and cultural assets and showcase the vibrancy and diversity of local arts and cultural communities. With funding from an Extension Collaboration Grant, the Central Illinois' Cultural Assets: Mapping Resources, People and Meaning to Propel Community and Economic Vitality project will also lead to research-informed community-based products (like maps and videos) and will serve as a model for other communities to adapt.
Novak-Leonard, who joined FAA in 2020, researches the social roles of arts, artists, and creativity and specializes in developing new measurement systems to understand cultural participation. She was particularly interested in bringing together areas of expertise across the college to help launch the work of the Arts Impact Initiative, a pilot research program that translates data and research about art and artists into actionable strategies to transform both arts practice and policy.
"We started to think about how we might be able to look at some communities within Illinois to understand the health and vibrancy of art and artists, while also taking into consideration the effects of the pandemic, and the potential role artists play in economic recovery," said Novak-Leonard. "How do you bring different social science and research methodologies to these topics, and how do you translate what you're learning not only for scholarly outlets but also to bring about change in policy and in professional practices?"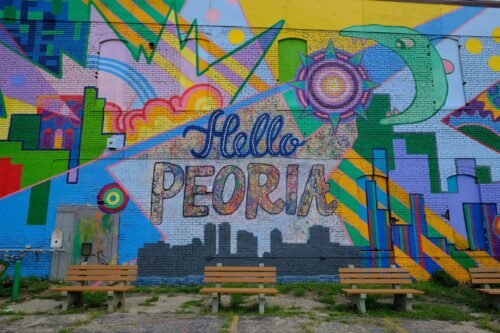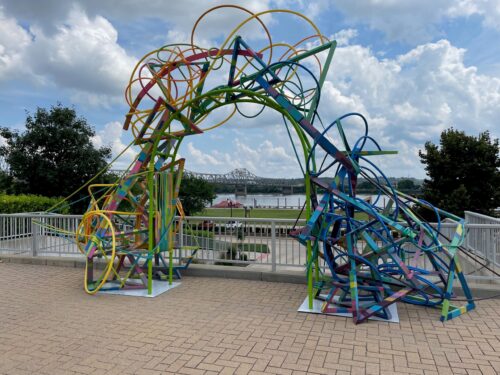 Mapping the arts 2
The project team selected Peoria, IL, as their pilot city. "We know Chicago is a huge area on the national stage for arts and culture," said Greenlee, "but creative activity is everywhere. and Peoria is a locus for that work." It also helps that there are dedicated local partners for this work, including Jenn Gordon (BMUS '03), the executive director for ArtsPartners of Central Illinois, a not-for-profit organization focused on expanding community engagement with the arts through partnerships and promotional programs.
Greenlee's expertise in community development planning led the group to consider varied and inclusive data collection methods. In addition to federal and local data from sources like the U.S. Census Bureau and City of Peoria, the project is using a video interview and focus group process that engages many stakeholders within Peoria's arts ecosystem. This comprehensive approach aims to heighten people's awareness of the diversity within the local arts and cultural community and identify new ways artists can collaborate, coordinate, and evolve.
"We didn't want to assume that there is one monolithic arts community, or one perspective on the assets or resources that can dominate our process," Greenlee said. "We are designing a research process that is not passive; it's an active, iterative process that is designed to have ripple effects and create connections that weren't there before with the hope that it creates transformations within the community itself."
Ultimately, the project will lead to a website featuring maps, videos, and other research products that seek to tell the stories of creative spaces and people in Peoria. "Our community partners want an accessible platform where they can access the information and resources that come from this research," explained Greenlee. They also plan to create a shareable toolkit explaining the methodology and processes used in this project so that other communities can apply them in their own efforts to map, connect, and grow public participation in the arts.
The team hopes that the types of practice happening within the Arts Impact Initiative and its offshoots builds a strong foundation in innovative thinking for the next generation of practitioners in community planning, arts policy, and governance. "We want to create more tools and strategies for understanding the role of arts and creativity in community change, local economies, and wellness of place," said Novak-Leonard, "and translating that knowledge into actionable insights for developing policy and new ways of bridging gaps within communities."