intro
By Mariana Seda
What do urban planners and dance choreographers have in common? At a basic level, both fields center bodies and their relationship to space. For Dance Professor Jennifer Monson  and Urban Planning Professor Magdalena Novoa, these disciplines are deeply interconnected by their efforts to address social justice through collective experiments. Monson and Novoa co-created a graduate-level course called "The City Through the Body," a collaborative attempt to examine and challenge inequities in the urban context by integrating theoretical and practical approaches from both choreography and planning.
Cross-listed in both departments, the course attracted a diverse group of students with backgrounds spanning theatre, dance, planning, environmental sciences, and library sciences – a blend of perspectives that played a key role in the progression and outcomes of the class. With flexibility in mind, Novoa and Monson established a weekly structure which started with student-led conversations about the readings and evolved into movement exercises exploring how to embody those ideas. Students contributed with their own exercises and excursions, like a group visit to the zines library followed by a zines creation session.
"Our main goal was to create a collective practice," explained Novoa. "We both do this separately in our research and practice, and we wanted to create that experience in the classroom."
They also wanted to challenge the hierarchies typical in their fields and in academia. Syllabus readings consisted of feminist, queer, and ethical perspectives focusing on social justice and aesthetics. The professors took a seat alongside students as learners, asking questions and inviting students to experiment with the intersections of urban planning and dance, as well as build new methodologies for research and creative practice.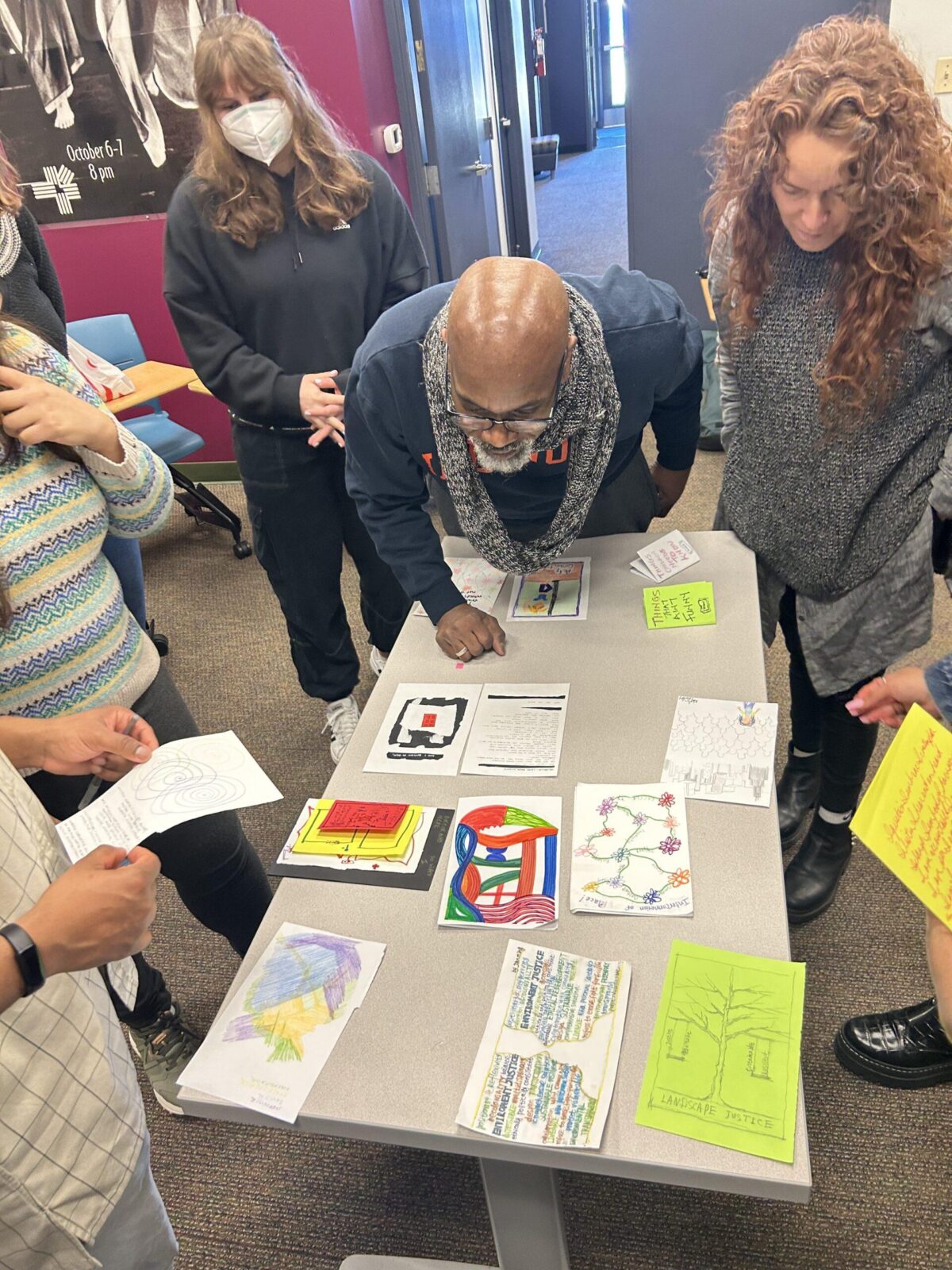 cont
"We created a space where people who may not think of themselves as dancers could move through a space," shared Monson. "One student described how her experience of being in a dance class helped her address her own positionality, power, and relationship of hierarchical roles through the body."
Students created immersive final projects that served to disrupt and rethink spaces, resignify land discourses, and create community through engagement and collective practice. One student created a "Sidewalk Ballet" in downtown Urbana featuring classmates enacting  public behaviors (think: walking, sweeping, or cycling) with a choreographed rhythm. As part of the performance, a voice narrated an excerpt from a seminal book about cities by Jane Jacobs. Other students created maps with instructions on how to move from place to place; redesigned entire city blocks; and reclaimed underappreciated public spaces like library staircases with music and movement.
According to Novoa, aspiring urban planners – as well as architects and landscape architects – need to understand how to implement these new methods into their future work practices.
"Bodies are the most important elements that make a city," explained Novoa. "So thinking choreographically is necessary as you think about the living vital systems of cities. In planning we normally draw maps without people in them – just streets and infrastructure.For this course, we really focused on how this infrastructure is actually used and occupied by bodies."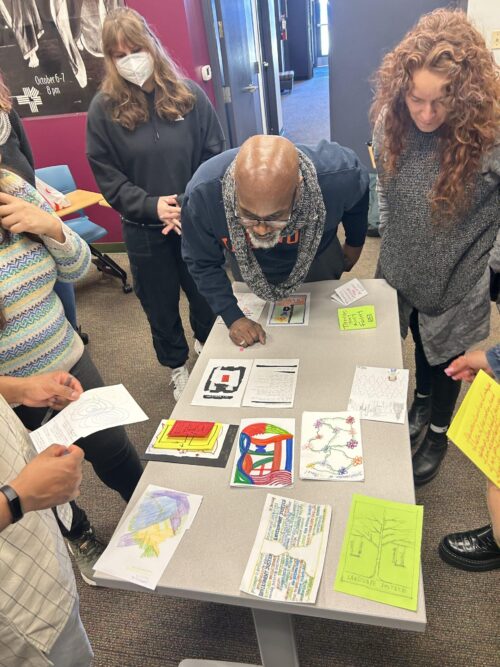 more cont
In a broader sense, students acquired the expertise to apply these principles in their chosen fields. They developed the ability to articulate the possibilities, values, and ethical considerations specific to choreographic and arts-based methods to foster social and environmental change. The course emphasized reflective practices and the importance of cultivating cultural competencies to collaborate effectively with diverse communities.
"These collective arts-based practices really call on people to listen," shared Monson. "They open us up to collaboration and encourage new ways of thinking, which is really central to what we all do. It is the most successful way I've ever integrated theory with embodied practice before. And our students were really excited."